Distinguished Speaker Series
The Department of Legal Studies at UCF was proud and honored to host renowned national scientist Dr. Peter L. Platteborze for a visit to the UCF campus from Wednesday, February 27-Friday, March 1, 2019. Read more...
Kunal Bhatheja, J.D. of Illinois Court of Claims, and Blair Jackson, J.D. of Schwam-Wilcox & Assoc., co-authors of "Easy as P.I.E.; Avoiding and preventing vicarious liability for sexual harassment by supervisors." Drake Law Review, Vol. 62, No. 3, 2014, spoke of how sexual harassment laws can prevent or stop harassment and empower those who have been harassed.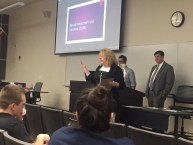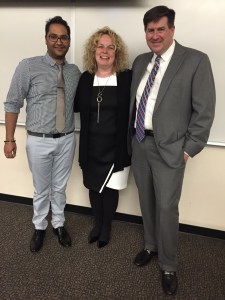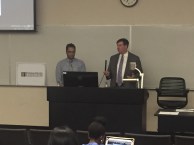 A. Wellington Barlow Esq., Equity in Sentencing Analysis System and the Disparity in Criminal Sentencing Across Florida with Regards to Race. Mr. Barlow, who spoke about inequities in sentencing, pulls from over three (3) decades of trial court experience. His legal background provides a wealth of wisdom, knowledge and practical experience that's freely shared in books and publications. His life's work has chiefly involved aggressively protecting the constitutional rights of the criminally accused in criminal courts of law, the rights of victims of accidents and/or crimes to be made whole in civil courts of law. He has created a Sentencing Analysis System that is being contemplated in many circuits in Florida, and which is the fodder for a great dialogue by judges, legislators and lawyers.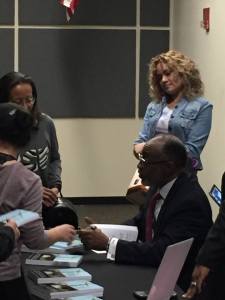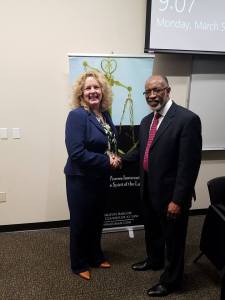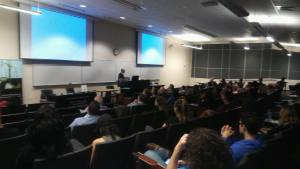 Beginning February 2018 Dr. Schmidt will be facilitating the Civics cohort of Orlando Together. Orlando Together seeks to fortify cities by undermining racial divisions as they manifest in religious, education, business, and civic life. The Civics cohorts will tackle policing and authority (February,) mass incarceration (March,) and reentry (April) with the expectation that these substantive areas will allow for deep conversations about race, implicit bias and privilege. There will be site visits and panel discussions followed by facilitated discussions. Then-Attorney General Eric Holder in 2009 said that the United States is a "nation of cowards" when dealing with the topic of race. Dr. Schmidt and the attendees hope to get brave.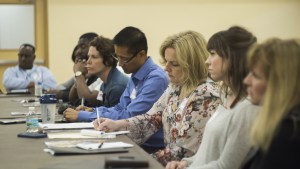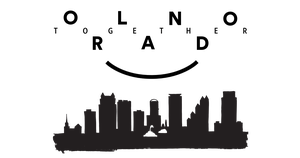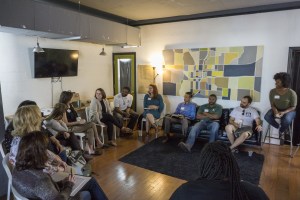 Center Director Cynthia Schmidt is a leader of a Think Tank and a participant in a second.
Dr. Schmidt leads a Think Tank based out of the Callahan Center, in Parramore. The diverse group of participants have met every few weeks since November, 2014 discussing race, implicit bias, social justice and police practices. They are currently developing a project called "Flipping the Panel."
At the request of City Commissioner Regina Hill, Dr. Schmidt serves on the Urban Crime Task Force. Dr. Schmidt co-chairs the Poverty Subcommittee. The Task Force announced their recommendations to the community during February and March of 2015. The Task Force will work for the balance of the Commissioner's term, ie. three more years.
International Visitor Leadership Program
Black Lives Matter Presentation
On July 26th, 2017 Dr. Schmidt made a presentation to a delegation of officials, from throughout China, with the International Visitor Leadership Program. The program is conducted through the Bureau of Educational and Cultural Affairs of the U.S. State Department. Dr. Schmidt's presentation was an overview of the birth of the Black Lives Matter movement, the shooting death of Trayvon Martin, the trial of George Zimmerman, and many other aspects of cultural injustice which has and is plaguing the U.S.. Dr. Schmidt's presentation can be viewed at the following link.
Center for Law and Policy, Black Lives Matter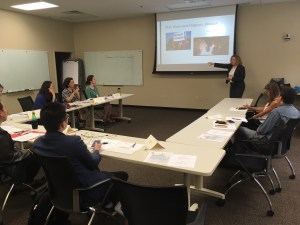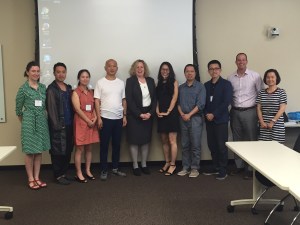 Blue Ribbon Panel Facilitation
Creating a Dialog Between a City's Police Department and the Community
After the death of Trayvon Martin, center Director Cynthia Schmidt facilitated meetings of a Blue Ribbon Panel of community stakeholders for the city of Sanford, Fla., and authored a report with their recommendations on how the Sanford Police Department could improve relations with community members. By January 2014, 80 percent of the recommendations were implemented. For a copy of the full Blue Ribbon Panel report,
click here.