International Activities
As a member of the College of Community Innovation and Education, the UCF Center for Community Schools is responsible for helping CCIE meet its strategic goals, which include "sustain and grow strong partnerships" between the college and "global communities."
The UCF Center for Community Schools works with international organizations to promote the development of community schools worldwide. The center has ties to community school development throughout Europe, Central Asia, Africa, the Caribbean and North America.
Recently, the center brought together international authors for a scholarly journal on community schools, hosted a site visit for Welsh educators and facilitated an international virtual exchange program for students. Learn more below.
The center is also speaking with educators throughout Europe about systems- and school-level development of community schools using accreditation as a means for continuous improvement.
Journal Issue on Community Schools
(International Focus)
The UCF Center for Community Schools was invited to serve as guest editor of an issue of the Peabody Journal of Education on community schools. The center's Special Projects Coordinator Jarrad Plante brought together international authors and Director Amy Ellis penned the introduction. View a list of articles in the issue, Volume 95, 2020.
Forming international collaborations to share perspectives and best practices has become increasingly vital as we fuel innovative strategies advancing education and community-school development. — Center Director Amy Ellis
Welsh Educators Site Visit
Welsh educators interested in learning about community schools in the United States participated in a February 2020 site visit hosted by the UCF Center for Community Schools. They came to Central Florida to learn about UCF, the center and the Community Partnership School™ model of community schools. Their trip was funded by the Welsh government and coordinated by the British Council of Wales. Learn more at "Center Hosts Site Visit for Welsh Educators".
The teachers feel that it was an absolute privilege to be involved … in large part due to the fantastic programme. — Tanya Ramone, British Council
It was invaluable to see the progress the Community Partnership Schools have made and what is achievable with a common goal and positive attitude to succeed for the children educated in these communities. — Welsh educator
The opportunity to network and hold discussions with other educators during the trip was invaluable and the time to discuss how it could look in our settings very useful. The staff from UCF and their partner schools were absolutely amazing and went out of their way to help us and develop our knowledge … — Welsh educator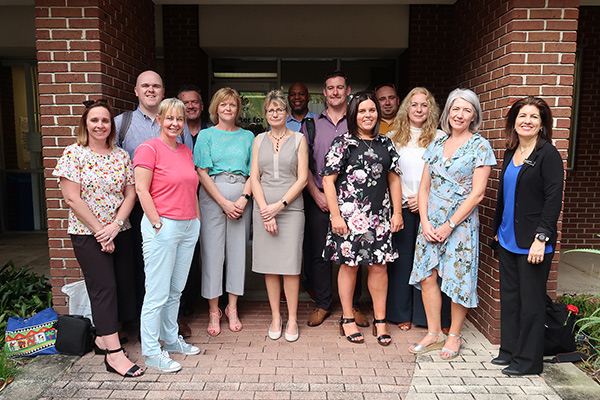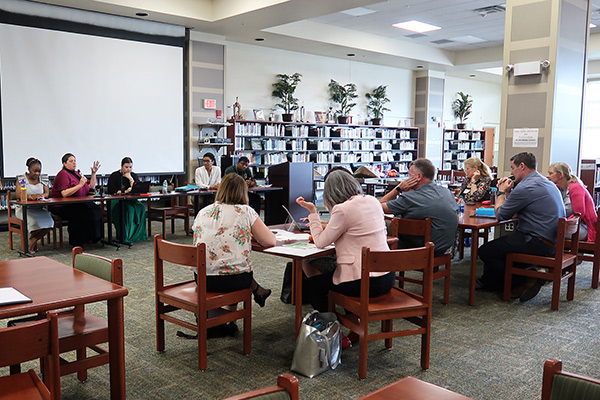 Panel discussion at Evans High School
Eagle's International Virtual Exchange
At Wilkinson Junior High, A Community Partnership School in Middleburg (Clay County), Florida, students have been participating in a virtual exchange program with student counterparts in England and other countries. The program is named the "Eagle's International Virtual Exchange," offering a nod to Wilkinson's mascot.
Eagle's International Virtual Exchange offers students an opportunity to learn the value of diverse cultures and thoughts and to gain a world view. The program includes five segments: Global Reading Initiative, Global Community Garden Project, Healthy Living, World-View: Virtual Tour of Global Towns and International Virtual Pen Pal. Virtual collaboration topics include food insecurity, healthy eating habits and literacy.
The program was launched in January 2019 thanks to the efforts of Summer Burrell, Community Partnership School director, and Ms. Ford, intensive reading instructor at Wilkinson, and the UCF Center for Community Schools. It provides a model of a virtual global classroom for Community Partnership Schools statewide.
Below, students in a Wilkinson classroom collaborate virtually with students from Broad Heath Primary School in Coventry, England.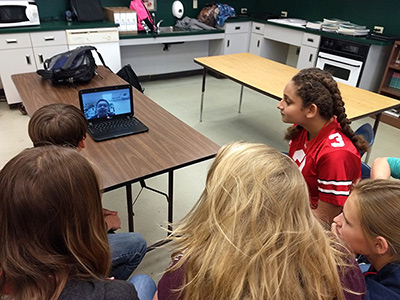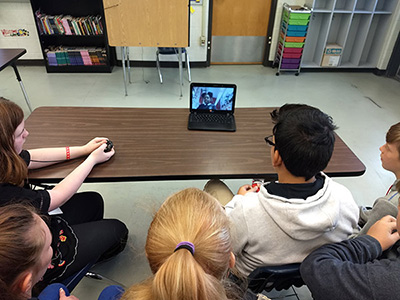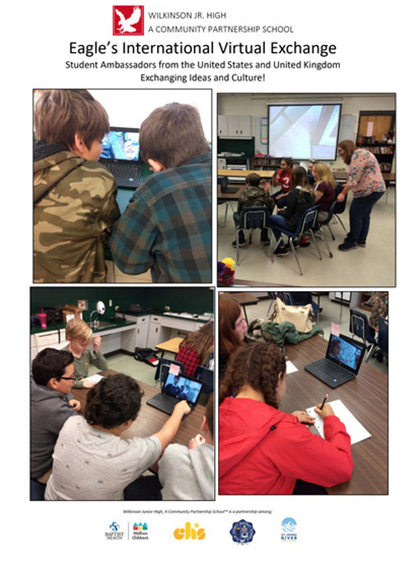 International Hub for Community Schools
The UCF Center for Community Schools was named in 2017 the first International Hub for Community Schools by the London-based International Center for Excellence in Community Schools (ICECS). ICECS works to advance community school development through demonstration projects, research, consultation, networking and conferencing.
As ICECS' first International Hub, the UCF center is a primary U.S. contact for:
Florida community school site visits for international practitioners, head teachers, others
Global community school strategy planning and advancement
Joint education consultancy work and international community school conference development
Joint international community school research
Exploring connections to community school classrooms globally through technology
To learn more, contact center Director Amy Ellis (second from right in photo below).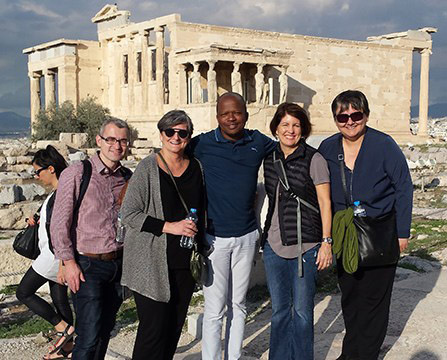 Ellis (second from right) with Eastern European and African community school practitioners at a meeting in Greece arranged by ICECS.