Health Information Management (HIM)
A career in health information management offers an opportunity to combine an interest in medicine with the knowledge and skills to design and manage health information systems of a clinical and financial nature. Health information managers are professional members of the modern health-care team responsible for:
the acquisition and supervision of complete medical records on each patient
the design and management of health information systems that collect, process, store, retrieve and release health information and statistics
assistance to administration, other health professionals and medical staff in developing quality assurance programs by abstraction of medical data, preparation of statistical reports and analysis of information
assistance in the collection and analysis of data for public health services planning
Registered Health Information Administrator (RHIA)
Each professional is recognized as a Registered Health Information Administrator (RHIA) after passing the Registration Examination administered by the American Health Information Management Association. The RHIA is a fully qualified professional in the planning and management of health information systems and analysis of information generated by those systems. With today's emphasis on information and computerization, the RHIA has a unique status within the health-care community.
Places of Employment
A major employment opportunity for health information managers is in health information management/medical record departments of general acute care hospitals. Here, health information managers combine communication skills and administrative and managerial ability with special expertise in medical information management. The health information manager organizes, generates and analyzes data relating to treatment, reimbursement, planning, quality management and research. Other positions within the hospital for which the health information manager is qualified include quality assurance, utilization review and risk management.
There are other agencies and/or facilities that utilize the skills and knowledge of the health information manager. These include, but are not limited to, physician offices, clinics, home health agencies, insurance companies, accounting firms, federal and state government agencies, hospice-skilled nursing centers, consulting firms, psychiatric facilities, and educational institutions.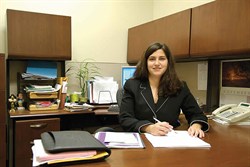 Christina Martinez is a health information manager at Orlando Health (formerly Orlando Regional Healthcare). Read more about her career.
"I love the activity and diversity of this work … ensuring that information is accurate and complete … providing information to people when it's needed … and working with staff to meet our objectives."
– Christina Martinez, B.S., Health Information Management ('98); M.S., Health Sciences – Health Services Administration Track ('05)
Health Services Administration (HSA)
Health services administration involves managing the integration of all aspects of health-care to provide services. HSA graduates are concerned with the business aspect of the health industry: human resources, accounting, marketing and sales, planning, information systems, and facility management.
Health services administrators are often responsible for million-dollar budgets of facilities and equipment as well as hundreds of employees. The complexity of the job, the challenge of leading and motivating, and the delivery of efficient and effective high-quality health care combine to make health services administration a rewarding and demanding career.
Health services administrators advance by completing graduate study and moving into more responsible and higher paying positions, such as assistant or associate administrator, and in larger facilities, as the CEO.
Health care is the fastest growing industry in the country and the second largest industry in the state of Florida. The industry is growing so fast in Florida, due to the demographics of the population, that there should be a variety of career opportunities in health services administration for the foreseeable future.
Debbi Lehner began her career in health care as a radiology technologist. Today she is chief operating officer at Bartlett Regional Hospital in Juneau, Alaska, where she oversees departments such as diagnostic imaging, construction management, building maintenance, physical therapy, pharmacy, laboratory, respiratory therapy and others.
Places of Employment
Career opportunities in health services administration encompass much more than hospital care. Health services administrators are often employed by other types of health-care facilities and organizations, including
ambulatory surgical centers
assisted-living facilities
birthing centers
free-standing clinics
home health-care agencies
managed-care organizations
nursing homes
physician practices
public-health centers
retirement centers
They may also be employed by organizations that do business with health-care facilities, including
computer software firms
durable medical equipment companies
insurance companies
pharmaceutical companies
research and development firms
Medical group practices and HMO's are expected to grow larger and more complex, and the need for professionals to manage those organizations also creates jobs for health services administrators.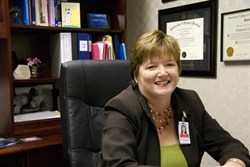 Debbi Lehner began her career in health care as a certified radiology technologist. She advanced into hospital administration roles, including a position at South Seminole Hospital in Longwood, Fla., (photo). Today she is CEO at Greeley County Health Services in Tribune, Kansas.
"I really like the diversity of my job. I learn enough about each specialty area to be its champion."
– Debbi Lehner, B.S. Health Services Administration ('96); M.B.A. ('99)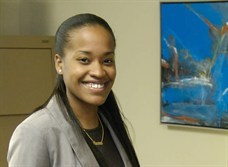 As an HSA graduate student, Ayanna O'Connor held an internship at the Health Council of East Central Florida. Learn more. She is currently the operations manager for Community Health Center, Inc., in Eatonville, Fla.
"Health services administration blends my interests in both business and medicine."
– Ayanna O'Connor, M.S. Health Sciences – Health Services Administration ('06)