The University of Central Florida is proud every year to host the American Mock Trial Association's Southeastern Regional Tournament. AMTA's Regional Tournaments are the first round of the American Mock Trial Association's annual national tournament structure. The top teams from each Regional tournament advance and compete in the ORCS round of competition held in March.
Following the registration deadline, AMTA will assign all timely registered teams to a Regional tournament and announce those team assignments in November shortly before Thanksgiving.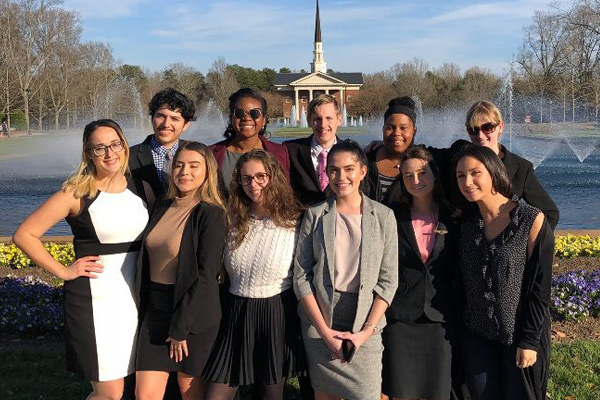 NEXT EVENT
Jan 31 - Feb 2
2020
The 2020 AMTA's Southeastern Regional Mock Trial Tournament is scheduled for January 31- February 2 at the University of Central Florida, located in beautiful Orlando. Each school must register with AMTA by the annual deadline to be eligible for placement in AMTA's Regional tournaments. For more information, please visit the tournament page.
How to Participate
For information regarding the AMTA's Southeastern Regional Mock Trial Tournament, please contact the Tournament Director: Margarita Koblasz at drk@ucf.edu.
Can you Judge the Competition?
Each year the University of Central Florida relies on volunteers from our our legal community to judge the four rounds of our competition. Approximately fifty judges are needed for each round (two hundred judges total) to insure that the high standards of the American Mock Trial Association are met to provide fair, unbiased feedback to our competitors. CLE credits approved by the Florida Bar are routinely available for bar members who volunteer their time for this tournament. Law Students, Attorneys, and Judges are welcome to provide their assistance for the program.
If you are interested in volunteering, please complete the Judge's Registration Form. For any questions regarding judging, please contact Margarita Koblasz, Tournament Director at drk@ucf.edu.
Moot Court
Moot Court is recognized as one of the most rigorous and prestigious programs in all of legal education. Members of the UCF Moot Court Program are the highest quality of advocates and orators that collaborate on the merits of ethics, case law, and representation.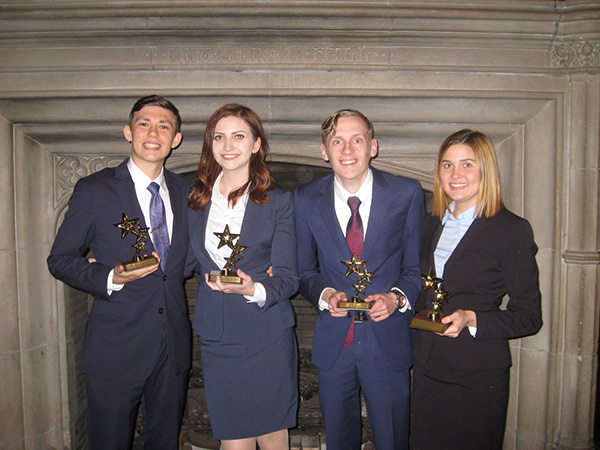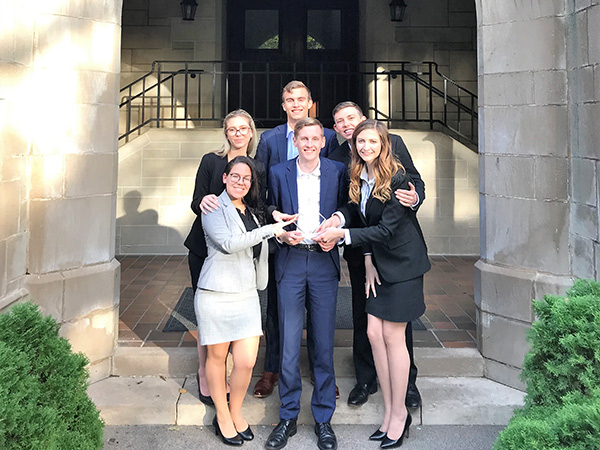 South Atlantic Regional Tournament Information
The American Moot Court Association's official South Atlantic Regional Tournament will take place on Saturday, November 9 and 10, 2019 at UCF Downtown
Regional tournaments act as a qualifying tournament for teams wishing to compete at the ACMA National Tournament in January 2020. The top 20% of team competing at each regional will receive an automatic invitation to the national tournament. To compete in the national tournament, teams must first compete in an ACMA-sanctioned regional tournament.
At the regional tournaments, two-person teams will be required to present oral arguments in three preliminary rounds on Saturday, November 9th. Each team will represent both petitioner and respondent. Order of argument and matching teams will be determined randomly. We will break 24 teams into the finals, holding five rounds on Sunday, November 10th, in single elimination rounds.
Registration is now closed for student volunteers. All volunteer information has been emailed to all registered student volunteers. All information was emailed to your Knights email address. If you have any questions, please contact the Assistant Tournament Director, Katie Connolly at katiec@ucf.edu.
Important Documents
Mediation Team
Compete in groups of three to simulate the mediation process. You will strengthen your debate and negotiation skills. Open to all majors.
Interested in learning more or joining the team? Email Dr. Gillham at Elizabeth.Gillham@ucf.edu.