Overview
The Lockheed Martin/University of Central Florida Academy for Mathematics and Science is an education/industry/community partnership aimed at improving mathematics, science and technology education in Central Florida. This unique partnership serves as a model for the educational reforms proposed by both national and state agencies by providing schools in Orange, Osceola and Seminole counties with teacher-leaders who initiate, implement and sustain mathematics and science reform efforts. This innovative model could only be initiated and sustained through the visionary leaders at Lockheed Martin and the University of Central Florida. The profile for the funding and support of this project includes the following:
The Lockheed Martin Corporation provided the stimulus for the development of the Academy concept and generously provided an endowment that insures the longevity of the program.
The Board of Regents of the State University System of Florida provided matching funds to augment the endowment and enhance the capacity of the Academy to attain its goals.
A National Science Foundation Teacher Enhancement grant provided funds for program development and for immediate implementation during the first four years.
The University of Central Florida is committed to the support and development of the Academy by providing faculty support through new faculty lines, giving priority to course scheduling, and providing support for faculty travel to disseminate the research findings concerning this model project. In addition, the Academy and the Student Internship office maintain close collaboration to assign student interns to Academy Scholars and to provide highly qualified university supervisors for those interns. Student intern certificates provide tuition support for Scholars.
Four local school districts, Orange, Osceola, Seminole and Brevard assist in the selection of outstanding teacher candidates, support the Scholar/Intern concept, and provide important links of communication to assist the Scholars, Scholar graduates, and program planning and design.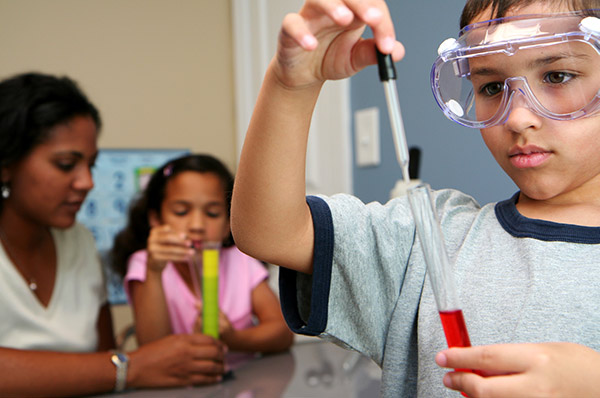 Mission Statement
The mission of the Lockheed Martin/UCF Academy is to improve the quality of mathematics and science teaching and learning in the schools of Central Florida by providing leadership efforts to:
Strengthen the quality of teaching and learning in mathematics and science education.
Create a network of school-based leadership in mathematics and science education.
Develop a strong infrastructure of cohorts focusing on long-term impact.
Increase the number of students who enter high school and choose to enroll in mathematics and science courses which will prepare them for careers in mathematics, science, and technology fields.
Tuition Assistance
The Lockheed Martin/UCF Academy will cover approximately one-half of the tuition and fees cost for the two-year K-8 in Mathematics and Science Education graduate program (MEd). The funding comes from the Lockheed Martin endowment and scholars' work as internship supervisors. Scholars who already hold a Certificate of Participation can use it as payment during the semesters not covered by Lockheed Martin/UCF Academy funding.