Toward a New Social Equilibrium
"And the key act for both of us was defining our terms so that we could begin to describe the world and our place in it.  Definitions anchor us in principles." (Kendi, 2019, p. 17)
Within the College of Community Innovation and Education at the University of Central Florida, we began 2021 by reflecting on the most impactful events that people had to endure in 2020 and what our position is in a world that has fundamentally changed in less than one year. After deep thoughtfulness, we first acknowledged that people have been tormented by the anguish produced by a new pandemic, and many have also been assaulted by forest fires, floods, hurricanes and inhumane acts. Next, we recognized how political posturing has shattered our nation, establishing an explosive separation of group ideologies that is harming our society. Our time of discernment helped us realize that these aspects — the pandemic, the natural disasters and the political tumult — have, synergistically, ripped many layers of social façade from our communities' surface. They have revealed deep and cold cracks in our society that are caused and intensified by racial hatred. These cracks, like glacial crevasses that are hidden under snow fall, exist beneath U.S. systems of education, healthcare, employment, housing, government, justice and safety, among others. If we walk across a glacier without awareness and special skills, we risk falling and losing our lives. Similarly, if we ignore the racism and other social threats that are hidden within our social systems, we risk losing our humanity. We must continue to uncover and expose the deadly cracks in society, including racism and other forms of discrimination, to end the threat of the pain and danger they can cause.
We are interested in identifying how the needs of people, all people, can fuel our research,  teaching and service. This approach will help us build a better society where respect, tolerance, acceptance and fairness reign. We understand that all the initiatives and programs originated, developed and promoted by our college must exist in the three-dimensional social impact space defined by community innovation, education and justice. At the college, we are purposeful about moving society from its current state to a more advanced order. We believe that: (a) it is only by simultaneously moving the needle in the positive direction in all three aspects that individuals will achieve their wholeness, regardless of race/ethnicity, age, gender, religion/spirituality, ability/disability, sexual orientation, identity and economic status; and (b) the world will become a more inclusive, diverse and equitable place for all to live in harmony. But what exactly are we envisaging?
At the college, we are purposeful about moving society from its current state to a more advanced order.
While many are waiting to discern what they will have or will become, once a "new normal" settles around us, like a cloud of dust, we choose a different path. We will strive to "reimagine the world" (Asonye, 2020, p. 4), to take time to reexamine ways that people can interact with others and their environment in their natural world, in an advanced social ecosystem. We do not use the already coined term "new normal" because the sole act of defining it implies the existence of an "old normal," which is contradictory on its own. When referring to a "new normal," some people disclose their great desire to go back to where they were. We posit the following questions: Do we really want to go back to where we were, to our previous or original condition? Or do we instead want to take advantage of the strong impact of recent events on our society and move forward?
Making an analogy with thermodynamics, we have been able to identify a more accurate term for moving forward than seeking a new normal. It is well-known that the three fundamental laws of thermodynamics govern the entire universe. It is the second fundamental law that explains how a system in thermodynamic equilibrium can evolve spontaneously to a state of maximum entropy when perturbed. In the midst of great disorder, this state becomes the system's new state of thermodynamic equilibrium. We have applied a simplified version of the complicated second law of thermodynamics in our societal analogy: Considering our society as a macroscopic system in a universe of diverse communities, we can assume that civilization also evolves spontaneously to a state of maximum entropy in times of social turbulence. This new state, evolved from disorder, is what we call the "new social equilibrium."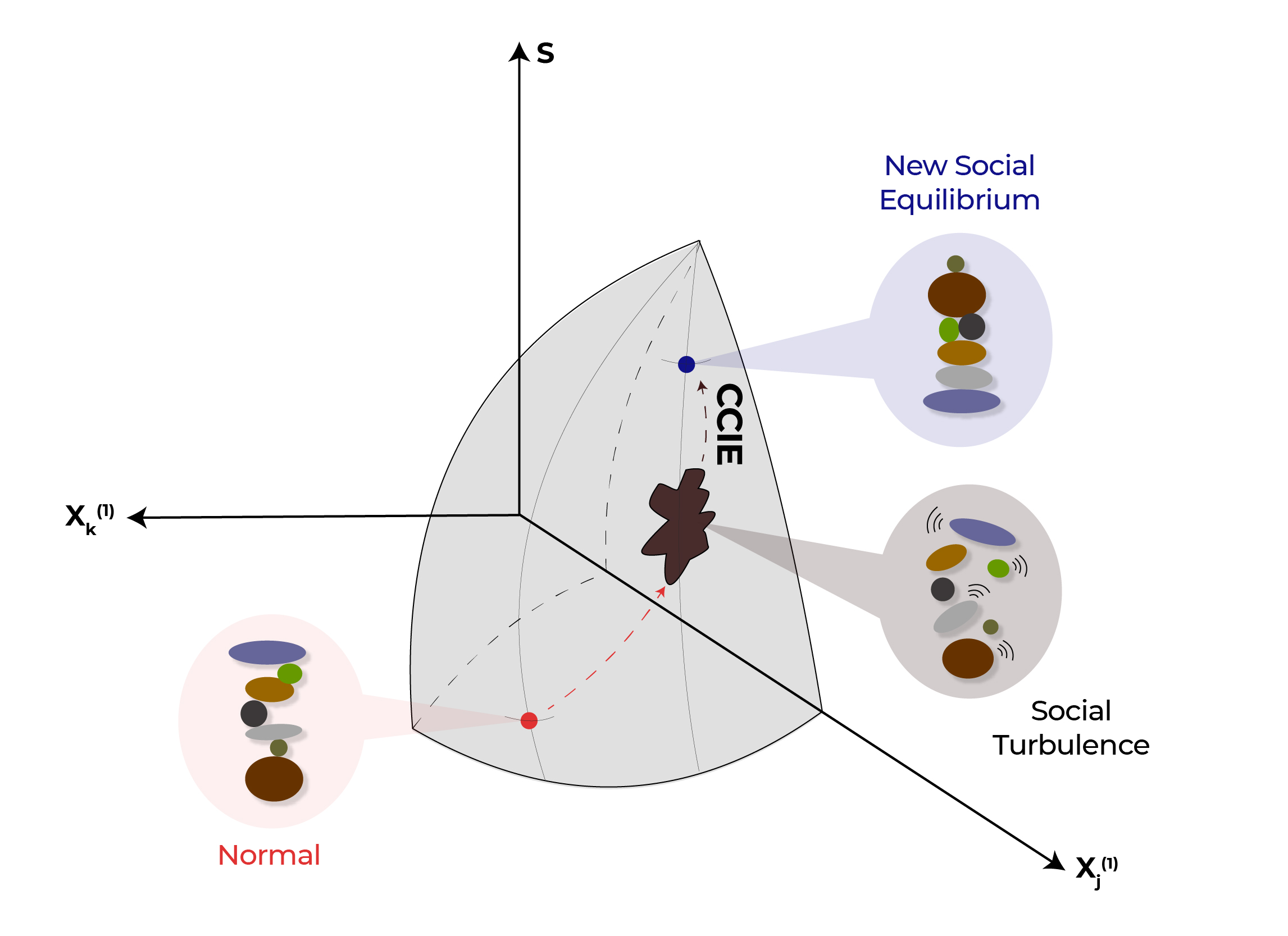 Figure adapted from the book of Thermodynamics and an Introduction to Thermostatistics by Herbert B. Callen
During the COVID-19 pandemic, the world underwent a significant change. The chaos of racial reckoning, political upheaval, educational inequity, racial and ethnic healthcare differences, economic uncertainties and climate debates was not caused directly by the virus per se. Still, they have surfaced by the heat and pressure that the pandemic has applied to the general world order. A storm of turmoil has uncovered layers of racism, inequity, ignorance, denial and complicity within the previous order of society. Now that we see what it looks like and better understand its sources, we in the college no longer wish to perpetuate or return to the "normal." We support the stance of Chime Asonye, former senior special assistant on sustainable development goals, Office of the Executive Governor of Abia State, Nigeria, on this matter. He urges us to "revel in the discomfort of the current moment, to generate a 'new paradigm,' not a 'new normal.'" He says further, "Feeling unsettled, destabilized and alone can help us empathize with individuals who have faced systematic exclusions long-ignored by society even before the rise of COVID-19 — thus stimulating urgent action to improve their condition. For these communities, things have never been seen 'normal.'" Chiame Asonye, (5 June 2020). Retrieved from There's Nothing New About this New Normal Here's Why, World Economic Forum, 1-5, p. 4.
We do not long for a return to the immediate past. We want instead to be physically, mentally, psychologically and spiritually healthy and to help others as they work toward those goals and toward sustaining them. We believe that the services and resources people need to live whole and healthy lives should be available to all and that they should be offered equitably. We want to add volume to the voices of those who have too often been talked over, ignored, told their opinions and ideas do not matter. We want the results of our efforts to end the cycles of poverty, violence, illiteracy, substance abuse and other complicated combinations of problems that produce behaviors that ravage communities. We want to help establish a new social equilibrium, one that starts with equity to level the playing field!
We are the College of Community Innovation and Education, and that identity demands an innovative response from us during this unusual time. We want to learn alongside our community partners to develop the new social equilibrium. We want to use current opportunities to engage in an equitable reset of society, focusing on education, healthcare, public administration, laws and policies, safety, employment and housing. We want to lead difficult conversations on sensitive topics to help our society heal through open and productive dialogues. Some of the community partners with whom we work will be neighbors in our city of Orlando, Florida. Others will be distant community members, participating in our group of thinkers and working worldwide to achieve real and sustainable change based on equity for all, a New Social Equilibrium.