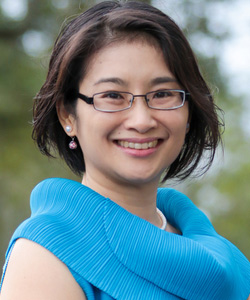 Su-I Hou, Dr.P.H., C.P.H., M.C.H.E.S., R.N.
Professor
Health Management and Informatics, Doctoral Program in Public Affairs
Phone: 407-823-3344
Professional Summary
Su-I Hou, Dr.P.H., is a professor at the Department of Health Management and Informatics at CCIE, UCF.  She serves as the Health-track coordinator for the college-wide interdisciplinary PhD program in Public Affairs, as well as the Founding Director of UCF's Taiwan Study Abroad Program on Asian Culture, Healthcare, & Aging Society.  Prior to joining UCF in 2015, She was a key founding faculty member of the College of Public Health and also founding director of the Taiwan Public Health Study Abroad Program at the University of Georgia (UGA), Athens, GA.  She also served as an associate editor (2009-2015) for Health Promotion Practice, the Society of Public Health Education's official journal devoted to the practical application of health promotion and education. Hou is a recognized scholar of service learning by the Community-Campus Partnership for Health and was also an inaugural service-learning senior scholar and a recipient of the Service-Learning Research Excellence Award at UGA.
Dr. Hou brings extensive public health research experience and expertise in mixed methods research, program evaluation, and community based participatory research (CBPR) to UCF.  Her research has focused on Aging-in-Community (AIC) models / programs and older adult healthy aging, as well as community and worksite strategies to promote early detection and prevention of selected cancers and HIV/AIDS.  Most of her research has involved working with community partners in developing and validating study instruments, assessing psycho-social factors of health behaviors, developing and implementing theory-based health programs, and evaluating the effectiveness of program interventions.
Hou has taught a variety of research and competency-based courses, including: Mixed Methods Research, Research Methods, Policy & Program Evaluation, Program Development & Implementation; Community Health; Epidemiology; Human Ecology of Health & Illness; Cancer Communication; Cancer Epidemiology & Prevention; HIV Needs Assessment; Doctoral Seminars; Asian Culture & Health; Public Health & Aging, etc.  Prior to become a university faculty member, Hou had considerable practical and administrative experience in health care and community settings, serving as the founding director of the Community Health Department at one of the major teaching hospitals in Taiwan.
Hou has been very active in the Chinese-American communities, serving as the 2013-2014 president for the Chinese-American Academic and Professional Association in Southeastern United States (CAPASUS), and continuing to serve on its executive board. She has close professional ties with Taiwan and China and has been frequently invited by their government agencies, major national universities, and industrial partners to give keynotes and training workshops.  Dr. Hou has published over 100+ peer-reviewed journal articles, presented over 200+ papers at national and international conferences, and given over 60 invited international presentations, workshops, or seminars.
Office Hours
Monday: 1:30 pm – 3:30 pm
Thursday: 3 pm – 6 pm
Education
School of Public Health, University of Texas
College of Medicine, National Taiwan University
Areas of Expertise
Mixed Methods Research (MMR)
Evaluation of Health Programs
Healthy Aging-in-Community
Scholarship of Teaching and Learning (SoTL) on Service-Learning
Intervention Mapping
Survey Instrument Development and Validation
Community-Based Participatory Research (CBPR)
Book
Service-Learning: Perspectives, Goals and Outcomes