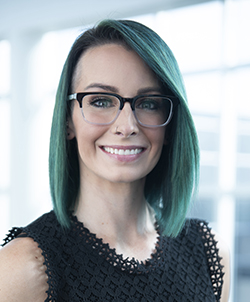 Jennifer Peck, Ph.D.
Assistant Professor
Criminal Justice
Phone: 407-823-5940
Professional Summary
Jennifer Peck is an Assistant Professor in the Department of Criminal Justice at the University of Central Florida. She received a dual BA in Criminal Justice and Sociology from the University at Albany (SUNY), and MA and PhD in Criminology from the University of South Florida. Her research interests focus on racial/ethnic disparities in the juvenile justice system, treatment of disadvantaged groups throughout juvenile court processing, and special populations in courts and corrections. Jen's recent publications appear in Justice Quarterly, Law and Human Behavior, Crime & Delinquency, and Race and Justice: An International Journal. She is also a Co-Investigator on a NIJ funded study examining perceptions of school climate and safety in Brevard County, Florida.
Education
University of South Florida, Phd in Criminology
Research Interests
Racial/Ethnic Disparities in Juvenile Court Processing
Treatment of Disadvantaged Groups in the Juvenile Justice System
Causes and Correlates of Delinquent Behavior