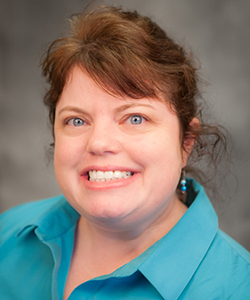 Meredith Robertson
Associate Instructor
Global Health Management and Informatics
Phone: 407-823-3765
Professional Summary
Meredith Robertson is an associate instructor in the School of Global Health Management and Informatics at the University of Central Florida, where she provides expertise in health insurance, community health and healthcare reform. Prior to joining the UCF community, Meredith worked for WellCare Health Plans in Tampa (WellCare is a Medicare and Medicaid managed care company). In this position, she was chiefly responsible for the company's public policy position development; advocacy strategies; federal regulatory monitoring, analysis and public comments; and educating departments and the senior executive team on exchange participation and healthcare reform.
Prior to joining WellCare, Meredith served as a technical director in the Children's Health Insurance Program division at the Centers for Medicare and Medicaid Services. She was at CMS for 10 years, focusing on analysis of the Medicare Current Beneficiary Survey, Medicaid and CHIP Policy, and oversight of state Medicaid family planning demonstration waivers. She also held positions at the Bureau of Labor Statistics, the Joint Economic Committee of the U.S. Congress and the American College of Obstetricians and Gynecologists.
Robertson has a bachelor's degree in journalism from Ohio University, a master's degree in public policy from Georgetown University, and a master's degree in business from Aberdeen University in Scotland. The latter she pursued while she was a Rotary Ambassadorial Scholar. Her master's work at Georgetown focused on organ transplant policy and her work at Aberdeen focused on a comparison of the use of evidence-based medicine in the United Kingdom and the United States.
Meredith and her husband, Donald live in Clermont with their two children Caroline and James.
Office Hours
Tuesday: 10 am – 1 pm
Thursday: 9 am – 11:30 am
Education
Master's Degree in Business Management
University of Aberdeen
Master's Degree in Public Policy
Georgetown University
Bachelor's of Science in Journalism
Ohio University
Areas of Expertise
Health insurance
Managed care
Medicaid/Children's Health Insurance Program (CHIP)
Recent Honors and Awards
2019 University of Central Florida Teaching Incentive Program (TIP) Award for teaching excellence
Recent Publications
Basics of Health Insurance and Managed Care, Interactive Learning Program: Cognella Publishing, 2021.