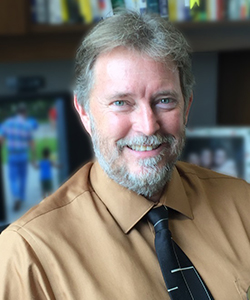 Daniel Stephens, Ph.D.
Associate Lecturer
Public Administration
Phone: 321-682-4337
Professional Summary
Dr. Daniel Stephens is an Associate Lecturer and the Coordinator of the Public Administration program at the University of Central Florida's Osceola Connect Center, a role he has held since 2013. Dr. Stephens earned his Ph.D. in Public Affairs in 2018, a Master's of Public Administration degree and a graduate certificate in Nonprofit Management in 2009, and a Bachelor of Arts degree in Public Administration in 2007. Minor fields of study include political science and urban/regional planning. His primary research interests include the study of various aspects of active (i.e. human-powered) transportation and the scholarship of teaching and learning with an emphasis on the efficacy of teaching via online modalities. His doctoral dissertation exams the effect of thematic elements found in mass media on the perceived self-efficacy specific to pedestrians. He is the Past-President of Central Florida ASPA and is an honorary member of Pi Alpha Alpha. He has served since 2007 as a regional appointee, representing underserved communities to Metroplan Orlando (including two years as Chairman of its Bicycle / Pedestrian Advisory Committee). Furthermore, he was an adviser to the City of Orlando's Downtown South redevelopment team, served as Chair of Osceola County's Community Traffic Safety Team, and has worked as a paid policy consultant to various local governments. Prior to public service, Dr. Stephens worked nearly nineteen years in the private sector, having founded the international freight forwarding company AutoShippers.com. He now parlays that same entrepreneurial expertise into producing Open Educational Resources via his production company, PlannerDanner Productions.
Education
University of Central Florida
Research Interests
Transportation
Public Policy
Urban & Regional Planning
Human Resource Management