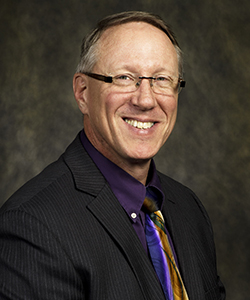 Philip Wessel, M.H.A.
Associate Instructor
Health Management and Informatics
Phone: 407-823-3760
Professional Summary
Philip grew up in Severn, MD and graduated from Old Mill High School in 1980.  After working full time and schooling part time, Philip enlisted in the Navy and reported to Basic Training in Great Lakes, IL in August of 1983.  After a 26-year career in the Navy, Phil retired as a Lieutenant Commander, and relocated to Orlando.
During his Naval career, Philip served in a variety of clinical and administrative roles.  He started as a Physical Therapy Technician, and it was during that time that he earned a BS in Health Care Management from Southern Illinois University.
In 1996, Phil was selected for commissioning in the Medical Service Corps as a Healthcare Administrator.  For the next thirteen years, he held many different positions; he served as a Company Commander /Health Services Detachment Commander and deployed to the Middle East on the USS Denver (LPD-9).  In 1999, he was accepted into the U.S. Army – Baylor Graduate Program in Health Administration and graduated in 2001. He was assigned as the Head of the Human Resources Department at Naval Hospital Jacksonville, he was the Group Medical Planner/Medical Support Operations Center Officer in Charge while deployed to Iraq and Guantanamo Bay, Cuba, and finally he was the Senior Administrator for the Branch Medical Clinic in Kings Bay, Georgia.
Upon retirement from the Navy in 2009, Philip relocated to Orlando, where he served as the Administrative Officer at the Orlando VA Medical Center for the Departments of Medicine and Surgery.  In January of 2012, he moved into a role as a Senior Management Specialist with the VA focusing on Quality Measures and Standardization of Procedures using the ISO 9001 methodology.
In August of 2012, Philip accepted a position as a full time faculty member in the Health Management and Informatics Department.  In August of 2013, he accepted the opportunity to serve as Undergraduate Program Coordinator for the Health Services Administration Program, where he provided academic and professional education and mentoring to more than 1500 enrolled students.  In April of 2015, Phil was awarded the Excellence in Undergraduate Teaching Award for the College of Health and Public Affairs. In April of 2017 he received the College of Health and Public Affair Teaching Incentive Award. Today, Phil continues to teach classes in many of the programs within the Department of Health Management and Informatics.
He has been married to Donna for 33 wonderful years and is the proud father of two girls, Ashley and Jessica; and the proud Grandfather of Connor and Evelyn.
Office Hours
Tuesday (main): 9 am – 10 am
Thursday: 1 pm – 5 pm