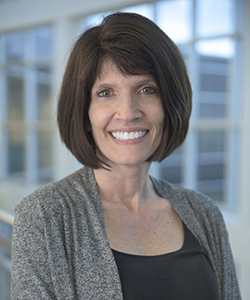 Debra Nicolosi, M.Ed.
Program Manager I
Technical Assistance and Training System
South & Southwest Regional Facilitator
Phone: 407-823-3058
Debbi lives in the Fort Myers area and is the regional facilitator for the South/Southwest region. Her experience is in early intervention which includes working as a transition coordinator and an Infant Toddler Developmental Specialist as well as being a parent of a child who was developmentally delayed. Her background also includes teaching in inclusion pre-kindergarten through primary class rooms. Her professional interests are early intervention, transition, supporting pre kindergarten inclusion, and family involvement. Debbi enjoys spending time with her husband Carl and three children, Anthony, Carly, and Julia. She also loves reading, shopping, exercising and baking with her children.