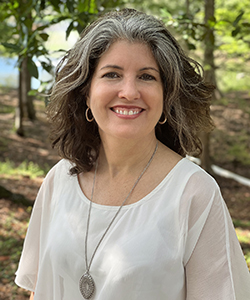 Amy Ellis, Ed.D.
Director II
UCF Center for Community Schools
Office:
Ferrell Commons C, Room 138
Phone: 407-823-2723
Professional Summary
Dr. Amy Ellis is director of the Center for Community Schools at the University of Central Florida's College of Community Innovation and Education. The Center for Community Schools serves as a comprehensive resource for technical assistance, university-assisted partnership, training, and assessment and evaluation in the development of high-quality community schools.
Early in her career, Ellis taught music and English to incarcerated youth at the Adolescent Therapeutic Center in Orlando. She soon realized her affinity for working with troubled youth facing difficult circumstances and her keen ability to empower them to pursue brighter futures. Since then, Ellis has embraced her role as a servant leader, embodying a philosophy iterated by Robert Ingersoll, "We rise by lifting others."
Ellis now has more than 25 years of experience in intervention and prevention programs and services for disadvantaged children. She specializes in the development of partnerships that integrate these programs and services into K-12 schools, as well as the scale up of initiatives that improve student outcomes.
With more than a decade of experience providing district-wide crisis counseling and intervention support, Ellis has led trainings on positive school climate, peer mediation, trauma-informed care, positive discipline, suicide prevention, best practices for working with LGBT youth, class and family meetings, drug use by adolescents, and other areas. She is now a highly sought-after leader, trainer, facilitator and coach.
Before joining UCF, Ellis worked for five years as a senior administrator for Orange County Public Schools and a co-director at Evans High School in Orlando, where she successfully launched the first community school of its kind in Florida, named a Community Partnership School.
In 2015, Ellis came to UCF to help implement the Community Partnership Schools™ model developed at Evans at other schools across Florida. Since then she has led technical assistance efforts and the development of Community Partnership Schools™ standards for the schools to follow, as well as a Community Partnership Schools™ certification process.
Considered an expert in the field of community schools, Ellis has presented statewide, nationally and internationally, and she has formed several partnerships focused on advancing the community schools field. Ellis also has made presentations on the impact of Community Partnership Schools to the Florida Legislature, which has funded the initiative since 2014.
Education
Doctorate in Educational Leadership, University of Central Florida
Master's Degree in Education, Florida State University
Areas of Expertise
Community schools
State, national and global partnerships

Scale up of initiatives that improve student outcomes
Student intervention and prevention programs and services