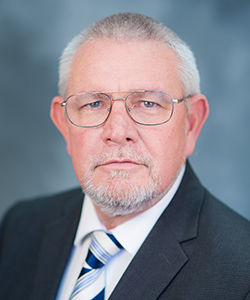 Shannon Elswick, M.S.
Instructor
Health Management and Informatics
Phone: 407-823-4168
Professional Summary
Shannon Elswick is a senior vice president of Acute Care for Leading Edge Healthcare, LLC. His career in health care has spanned four decades, over half of which was at the senior executive level. Before moving into academics and consulting, Elswick was the president of the Adult Hospital Group and president of ORMC for Orlando Health.
Shannon served six years in the U.S. Navy as a hospital corpsman. He received a Master of Science in Healthcare Administration from Central Michigan University and a Bachelor of Science in Healthcare Services from Southern Illinois University. He has served on the credentials committee and as a member of the faculty for the American College of Healthcare Executives and is published in Hospitality, Lean/Six Sigma, and Lifestyle Medicine.
Elswick is a fellow in the American College of Healthcare Executives and has served on boards and committees of multiple healthcare and community organizations including Big Brothers Big Sisters of Central Florida, American Heart Association, Cornerstone Hospice, United Way of Lake and Sumter, Dean's Advisory Council for the UCF College of Health and Public Affairs, Lake Sumter State College Health Sciences Collegiate Academy, Orange Indemnity LTD, Southlake Chamber of Commerce, Lake County Industrial Development Authority, Community Foundation of South Lake County and Oakland Presbyterian Church.
Elswick sings in multiple a cappella groups in central and south Florida, is the founder and musical director of Sisters of Sound and sings in his church choir. He and Becky, his wife of 34 years who serves as the Fifth Circuit Guardian ad Litem Trainer and is a former member of the Lake County School Board, live in Clermont. They have three sons and two grandsons.
When he is not teaching or singing, Elswick enjoys tennis, scuba and tandem bike riding with Becky.