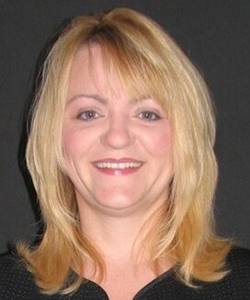 Mari Rains, M.S.
Program Director I
Florida Institute of Government at UCF
Phone: 407-823-3960
Professional Summary
Mari Yentzer Rains is Associate Director of the Florida Institute of Government (IOG) at UCF, serving government agencies across Central Florida. Mari's 20+ years' experience centers around helping leaders and organizations improve performance in her roles as a consultant, facilitator/trainer, leadership coach, and conference speaker. 
Mari earned a Masters Degree in Management & Human Resources from the University of Central Florida, while she also led the UCF Learning & Organization Development team. This team provided leadership & learning programs, leadership coaching, employee surveys, organization development consulting, strategic planning retreats, and employee engagement & recognition initiatives for UCF's 12,000 staff and faculty.
In 2008, Mari began teaching for UCF's College of Business (Management Department). In her seven years as Faculty, Mari taught experiential courses including Strategic Management Capstone, Leadership & Management, Human Resources, Employment Law, Recruitment & Selection, and the Cornerstone Project Management Service Learning course. She also served as the Faculty Advisor for the award-winning SHRM at UCF student chapter.  
Mari has consulted with government agencies for 10 years via the UCF Florida Institute of Government, including: Florida City & County Management Association, City of Orlando, Orange County, Seminole County, Volusia County, Florida League of Cities, City of Ocala, City of Holly Hill, City of Oviedo, University of Central Florida, Sanford Fire Department, Florida Association of Code Enforcement, Florida Association of Business Tax Officials, Florida Association of City Clerks, Florida Association of Records Management, Florida Center for Nursing, American Association of Service Coordinators, Florida Department of Children & Families, Volusia League of Cities, Tri-County League of Cities, 7th Judicial Circuit Courts, Orange County Library System, and many others.
Her corporate/private consulting clients include:  Publix, Darden Restaurants, Henkels & McCoy, Rollins College, Valencia College, Seminole State College, St. Cloud Chamber of Commerce, and others.
Mari is an inspirational, versatile and highly-sought consultant, coach and facilitator, with more than 50 professional development programs offered with expertise and passion. Clients comment on her high-energy facilitation, tailored curriculum content, experiential activities, humor, and workplace applicability.  Mari considers herself one of the fortunate ones who love their work. Each day, she fulfills her life's purpose: "Giving others the tools to succeed".