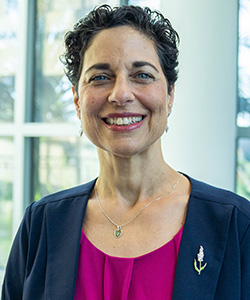 Michele Gill, Ph.D.
Professor and Program Coordinator
Curriculum and Instruction
Phone: 407-823-1771
Professional Summary
Dr. Michele Gregoire Gill is a professor of educational psychology at the University of Central Florida and program coordinator for UCF's education doctorates in Curriculum and Instruction and Educational Leadership. She earned her Ph.D. in educational psychology from the University of Florida as an Albert A. Murphree Presidential Fellow. Dr. Gill represents Division 15 on the American Psychological Association's Coalition for Psychology in Schools and Education. She serves on three editorial boards: Journal of Educational Psychology, Educational Psychologist, and Educational Psychology Review. Dr. Gill maintains a current professional teacher license in Elementary Education for the state of Colorado and has five years of K-12 teaching experience. Her research interests center on conceptual change, teacher beliefs, implicit beliefs, mathematics education, and educational reform. In 2011, Dr. Gill founded the Galileo School for Gifted Learning, a K – 8 charter school in Seminole County, Florida grounded in a Vygotskian pedagogical model; she continues to serve the school as board chairperson. Her research has been published in leading journals of educational psychology and has received numerous awards, including the American Psychological Association Division 15 Paul R. Pintrich Dissertation Award (2004) and the American Association of Colleges of Teacher Education Outstanding Dissertation Award (2004), as well as the Conference of Southern Graduate Schools 2006 Achievement Award for New Scholars in Social Sciences, Business, and Education. In 2011, she co-chaired the American Psychological Association Division 15's annual meeting program. Dr. Gill teaches courses in human development and learning theories at UCF.
Education
Ph.D. in Educational Psychology
University of Florida
Areas of Expertise
School reform
Mathematics education
Teacher change
Research Interests
Beliefs about learning and instruction that guide automatic appraisals, affective responses, cognitive processing, decision making, and volition, particularly in response to implementation of curriculum
Conceptual change theory
School culture and reform
Recent Honors and Awards
UCF Teaching Incentive Program Award, 2016
UCF Women of Distinction Award, 2015
Seminole County Public Schools Dividend (Volunteer) of the Year—Galileo School, 2015
Recent Publications
Gill, M. G., & Hardin, C. (2015). A "hot" mess: Unpacking the relation between teachers' beliefs and emotions. In H. Fives and M. G. Gill (Eds.), International Handbook of Research on Teachers' Beliefs (pp. 230-245). New York: Routledge.
Gill, M. G., & Fives, H. (2015). Introduction. In H. Fives and M. G. Gill (Eds.), International Handbook of Research on Teachers' Beliefs (pp. 1-10). New York: Routledge.
Herndon, J. S.*, Bembenutty, H., & Gill, M. G. (2015). The role of delay of gratification, substance abuse, and violent behavior on academic achievement of disciplinary alternative middle school students. Personality and Individual Differences, 86, 44-49.
Biraimah, K., Bonhomme, M. S., Gill, M. G., Kenkel, M. B., Sola, G. (2015). The concept of education in the U.S.A.: An international and interdisciplinary perspective. Rassegna di Pedagogia. Pädagogische Rundshau (1/2).
Gill, M. G., & Boote, D. N. (2012). Classroom culture, mathematics culture, and the failures of reform: The need for a social view of culture. Teachers College Record, 114(12), 1-45.
Current Funded Projects
Li, X., Gill, M.G., Chini, J., Saitta, E., Moore, B. (2015-2017). MATH-GAINS: Growing as Adaptive Instructors in Gateway to STEM courses. National Science Foundation. $250,000
Professional Organizations
American Psychological Association (APA), Division 15 (Educational Psychology)
American Educational Research Association (AERA), Division C
AERA Motivation SIG