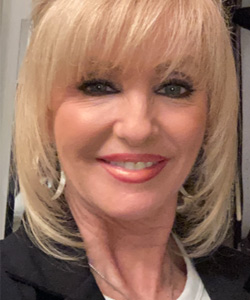 Regina "Gina" Harwood Gresham, Ph.D.
Associate Professor
Mathematics Education
Phone: 407-823-3550
Professional Summary
Dr. Gina Gresham (Ph.D.) is an Associate Professor, Educational Psychologist, Behavior Management Specialist, and member of the Academy Research Faculty-Lockheed Martin/University of Central Florida Academy for Mathematics and Science (LMA) at the College of Community Innovation and Education. She is a national presenter of professional development and mathematics consultant and is actively involved in implementing Response to Intervention (RTI) in Mathematics in schools nationwide. As a national trainer and speaker she is featured in a national video on RTI in Mathematics with the Bureau of Educational and Research. Dr. Gresham has published numerous international and national research articles and authored or co-authored six books including RTI and Mathematics-Practical Tools for K-8 Classrooms (Allyn & Bacon), Response to Intervention in Elementary School, RTI in Mathematics for K-6 Teachers, TAG Middle Math Is It, and TAG for Grades 3-5. Dr. Gresham's current research, writing, and professional development include: response to intervention in mathematics classrooms, the psychology of mathematics, particularly mathematics anxiety and children's anxieties, teacher self-efficacy, and learning styles. She has received the university's Teaching Inventive Program Award (2013 and 2016) Scholarship of Teaching and Learning Award (2008 and 2013) , Excellence in Undergraduate Teaching Award (2007 and 2011), Teacher Recognition and Appreciation Award, and was active in winning the Christa McAuliffe Teaching Award-Lockheed Martin/UCF K-8 Program Award.
Education
Ph.D. in Elementary Education, Educational Psychology
University of Alabama
Areas of Expertise
Neuro-psychology
Neuro-physiology
Psychology of mathematics
Elementary education
Research Interests
Mathematics anxiety
Preservice and inservice teachers' professional development
Teacher self-efficacy
Recent Honors and Awards
Teaching Incentive Award, University of Central Florida
Scholarship of Teaching and Learning Award, University of Central Florida
Excellence in Undergraduate Teaching Award, University of Central Florida
Recent Publications
Gresham, G. (2017) Preservice to inservice: Does mathematics anxiety change with teaching experience? Journal of Teaching Education. DOI
Gresham, G., & Shannon, T. (2017). Building mathematics discourse in first graders. Teaching Children Mathematics, 23(6), 361-366.
Gresham, G. (2016-17). Building Professional Learning and collaboration within Response to intervention, Reflections, 5 (4), 1-7.
Gresham, G. (2015). Improving student achievement by infusing highly effective instructional strategies into multi-tiered support systems (MTSS)– Response to intervention (RtI) tier 2 instruction. Position Paper-The National Council of Supervisors of Mathematics (NCSM) Improving Student Achievement Series Leadership in Mathematics Education. No.15/Spring 2015.
Gresham, G. (2014). Using universal screening within response to intervention in tiers 1 and 2 to improve students' mathematics achievement. Position Paper-The National Council of Supervisors of Mathematics (NCSM) Improving Student Achievement Series Leadership in Mathematics Education. No.14/Spring 2014. (Invited & Peer Reviewed)