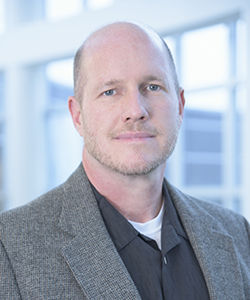 W. Bryce Hagedorn, Ph.D., LMHC, NCC, MAC
Professor and Academic Program Coordinator
Counselor Education
Phone: 407-823-2999
Professional Summary
A quick timeline: I began my journey as a professional counselor in 2000 and then served as a professor and Program Director of Counselor Education at Florida International University (in Miami) until the end of 2006. At the beginning of 2007, my family and I moved north to Orlando and I began my work in the Counselor Education Program at UCF, where I currently serve as the Program Director.
Whereas you are welcome to review my vita to see my research interests and level of professional involvement, you won't find my personal life philosophies, which I feel are more important that a list of accomplishments. Evolving both from my own journey as well as through my work with clients and students, I have developed a litany of personal mantras that have served me well through life's challenges, both personal and professional. I invite you to consider them for your own journey and/or to develop your own.
"Trust the Process" – Trusting the process involves acknowledging and accepting your current feelings, circumstances, and experiences, for without such acceptance as a necessary first step, you will find yourself wasting a lot of energy in self-judgment. Judgment often takes the form of negative self-evaluation (e.g., "I shouldn't be depressed!" or "Why do I keep getting so stressed?"), which results in feeling depressed about being depressed, or feeling stressed about being stressed. "Trusting the Process" does not imply that nothing can or should be done with these feelings, circumstances, and experiences, but without first freeing the energy held captive by non-acceptance and judgement of self, movement is difficult, if not impossible. Therefore, if you find yourself anxious about your current circumstances, rather than berating yourself, learn to step back, recognize that anxiety serves a purpose (e.g., perhaps you're supposed to feel anxious as this is a new experience for you), and learn what you need to from anxiety.
"Live in the And" – Living in the And involves accepting that life involves tension, and that life "happens" between your current status and your future hopes and dreams. Stated otherwise, "And" happens in the journey, not the destination. Too many people live their lives in the "Or", or perhaps even worse, in the "But" (trust me, it's never good to live in the But…). What does this look like? I often hear people say things like, "I'd like to be happy, but if you had my family history, you'd be miserable too." and "Either she will change how she's treating me or our relationship is over!" Living in the And changes the story: I can have a miserable history AND live my life in such a way that that history doesn't overly influence me. I can be in a relationship with someone who treats me in ways that I'd prefer they didn't AND still be true to my values about how I will treat them. Granted, it's difficult to live in the "And", but I've found that those who "get it" tend to be the most alive people I know. Embracing the tension, learning how to rely on God and others for the long-haul, and finding the value in the journey, THAT's "And" living.
"It's Okay to Live in the Gray for Today" – Similar to "Live in the And", this mantra speaks to the need to avoid extremes. As a recovering perfectionist, and having worked with hundreds of folks who get stuck in black-and-white thinking, gray-living is about making choices for today that best meet your goals for today and then accepting (and dispensing) grace to start again tomorrow.
"It's all about Balance" – Balance is an existential view of wellness – summed up, it means that you have to find meaning in the wellness activities that you choose to meet your holistic health needs. By ensuring that you intentionally and creatively schedule time to meet your physical, psychological, relational, and spiritual needs, you will find yourself balanced and able to face life's challenges (see above about "tension").
"Es lo que es" – This is my Spanish version of "It is what it is," which calls for the need for acceptance (there it is again, acceptance is pretty important to me!). One needs to accept the fact that you are where you are for a reason: discover it!
I'd welcome the opportunity to speak to you more about these (and other) defining statements, so call, email, or stop by soon.