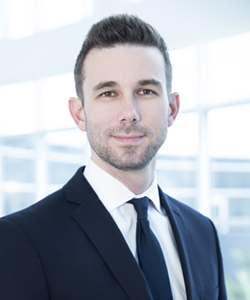 Carlton Patrick, J.D., Ph.D.
Assistant Professor
Legal Studies
Phone: 407-823-0827
Professional Summary
Carlton Patrick studies the psychology of legal decision-making, often from an evolutionary perspective. His research combines doctrinal legal analysis with the methodologies and perspectives of the behavioral sciences to examine the roots of human behavior in legally-relevant contexts. He is the coauthor of the book Objection: Disgust, Morality, and the Law, and has published articles in wide range of academic journals including Philosophical Transactions of the Royal Society B, Evolutionary Behavioral Sciences, and the law journals of Arizona State University and the University of Nevada. Prior to joining the faculty at UCF, he was a visiting scholar with the Center for Neuroscience and Society at the University of Pennsylvania and practiced law with Holland & Knight LLP. He is the recipient of the SEAL Writing Prize and the Rod Gillis Award for Excellence in Undergraduate Teaching.
Education
JD: Boston University School of Law
PhD (Psychology): University of Miami
MS (Psychology): University of Miami
BS: Florida State University
Research Interests
Law and Psychology
Law and Neuroscience
Evolutionary Analysis of Law
Recent Publications
Evocative Advocates and Stirring Statesmen: Law, Politics, and the Weaponization of Imagery, 2 Evolutionary Studies in Imaginative Culture (forthcoming 2018) [SSRN]
Objection: Disgust, Morality, and the Law (Oxford University Press, 2018) (with Debra Lieberman)
Not From a Wicked Heart: Testing the Assumptions of the Provocation Doctrine, 18 NEV. L. J. 33 (2017) (with Debra Lieberman) [SSRN]
The Long-Term Promise of Evolutionary Psychology for the Law, 48 ARIZ. ST. L.J. 995 (2016) [SSRN]
A New Synthesis for Law and Emotions: Insights from the Behavioral Sciences, 47 ARIZ. ST. L.J. 1239 (2015) [SSRN]