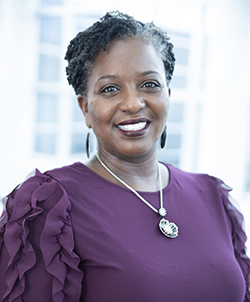 J. Richelle Joe, Ph.D.
Assistant Professor
Counselor Education
Phone: 407-823-4752
Professional Summary
Dr. J. Richelle Joe is a graduate of the College of William & Mary in Williamsburg, VA where she earned her doctoral degree in Counselor Education and Supervision. She has served as a professional school counselor in Virginia and is a Nationally Certified Counselor and an Approved Clinical Supervisor. Her research focuses on culturally responsive services for underserved and marginalized clients and communities, and specifically includes an emphasis on effective school-family relationships, the experiences of individuals of color, and the mental health needs of individuals and families affected by HIV/AIDS. At UCF she leads H.E.A.R.T., the HIV Education, Awareness, and Research Team and is involved with student organizations, such as the Holmes Scholars Program. Additionally, Dr. Joe is active in multiple professional organizations, including the American Counseling Association, the Association for Counselor Education and Supervision, the Association for Multicultural Counseling and Development, the National Board for Certified Counselors, and the Association for Moral Education.
Education
Ph.D. in Counselor Education and Supervision
The College of William & Mary
Areas of Expertise
School Counseling
Counselor Education
Counseling Diverse Populations
Research Interests
Culturally responsive counseling services for diverse and underserved populations
Addressing HIV prevention and HIV/AIDS in counseling and counselor education
Effective school-family-community partnerships
Recent Honors and Awards
Emerging Leader, Association for Counselor Education and Supervision (2017)
Post-graduate Award for Excellence, The College of William & Mary, School of Education (2015)
Southern Regional Education Board Doctoral Scholar (2012-2015)
National Board for Certified Counselors Minority Fellow (2013-2014)
Recent Publications
Joe, J. R., & Foster, V. A. (2017). Moral development, HIV/AIDS knowledge, and attitude toward HIV/AIDS among counseling students in the United States. International Journal for the Advancement of Counselling. doi:10.1007/s10447-017-9299-6
Joe, J. R. (In Press) Counseling to end an epidemic: Revisiting the ethics of HIV/AIDS. Journal of Counseling and Development.
Joe, J. R., & Harris, P. N. (2016) Family matters: An investigation of family coursework in school counseling programs. Journal of School Counseling, 14(11). Retrieved from http://www.jsc.montana.edu/articles/v14n11.pdf
Belser, C. T., Shillingford, M. A., & Joe, J. R. (2016). The ASCA model and MTSS: A framework to support students of color with problem behavior. The Professional Counselor, 6(3), 255-261. doi:10.15241/cb.6.3.251
McAdams, C. R., Foster, V. A., Avadhanam, R., Harris, P. N., Javaheri, A., Kim, S., Kooyman, B. A., Joe, J. R., Sheffield, R. L., & Williams, A. E. (2016). The viability of structural family therapy in the 21st century: An analysis of key indicators. Contemporary Family Therapy, 38, 255-261. doi:10.1007/s10591-016-9383-9
Current Funded Projects
Shillingford, M.A., Joe, J. R., Co-investigator, & Oh, S. (2016-2017). Exploring the physical and mental health of African American mothers raising boys and young men. University of Central Florida, Toni Jennings Exceptional Education Institute, $7200 (funded).
Joe, J. R., Principal Investigator, & Butler, S. K., Co-Principal Investigator (2016-2018). HIV prevention among young African American men how have sex with men: An exploration of protective factors. University of Central Florida, Office of Research and Commercialization Internal Grant, $7500 (funded)
Faculty Related Links
Professional Organizations
American Counseling Association
Association for Counselor Education and Supervision
Southern Association for Counselor Education and Supervision
Association for Multicultural Counseling and Development
National Board for Certified Counselors
Association for Moral Education