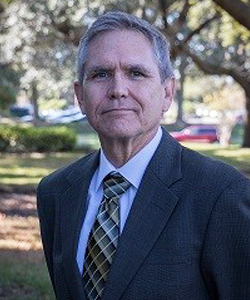 Douglas Backman, M.S.
Adjunct
Public Administration
Professional Summary
Doug Backman is the Director of Compliance, in the Office of Research at the University of Central Florida (UCF). Mr. Backman has over 29 years of sponsored program experience in higher education administration. Mr. Backman is responsible for compliance programs to include audit mitigation and investigations, Facilities & Administration Rate, time and effort certification, service center administration and UCF's conflict of interest and research integrity programs. Doug is also responsible for the UCF Facility Security office and export control programs.
Doug has been UCF's Administrative Representative to the Federal Demonstration Partnership since 2005 and serves as a Mentor and is a member of the Research Compliance Programmatic Committee and the Uniform Guidance – Procurement working group. Doug has served as a presenter at NCURA, SRA, AUTM and other higher education – industry organizations. Doug serves as a faculty member for UCF's Master of Research Administration Program. Mr. Backman holds a Master of Science degree in Contract & Acquisition Management from the Florida Institute of Technology and is a Certified Professional Contracts Manager (CPCM) from the National Contract Management Association.