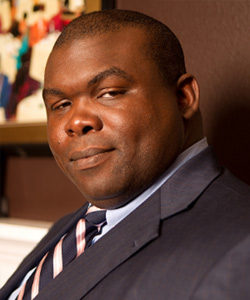 Corey Frazier
Board Member
Intel
Corey Frazier, Ph.D., PE is a proud "Air Force Brat" whose career trajectory spans engineering and leadership roles in space, supercomputing, and vision AI. He is a senior technical business development and operations leader at Intel focusing on delivering AI products at the edge. Prior to Intel, he worked in NASA's Space Shuttle Program for seven years as a lead engineer on 13 successful missions – including frequent missions to the International Space Station and the last mission to the Hubble Space Telescope.
In addition to his technical work, he has also represented Intel in its corporate social responsibility initiatives as a diversity champion and STEAM advocate, including being featured in Minority Engineer Magazine, and conducting youth-focused STEM workshops at the National Urban League Conference and the NSBE National Convention. Additionally, Corey coordinated Intel's skills-based volunteering efforts for Oregon for three years where he oversaw over 1200 hours of free, professional services to non-profit, education, and government entities. He has served Intel's Oregon-based Black population as the Oregon Network of Intel African Ancestry President and founded the Portland Black Employee Resource Group (BERG) Alliance. The BERG Alliance brought together over a dozen corporate Black and African-American affinity groups in the Portland metro area to strengthen their ability to serve Black professionals and provide consulting services to help companies launch their ERGs and make them more effective.
In the community, he serves on multiple non-profit and state boards, including the executive board of the Urban League of Portland as Board Secretary. He has been appointed by Governor Kate Brown to serve on the Oregon State Plumbing Board and on the Oregon Innovation Council where he serves as the board liaison to VertueLab, a cleantech innovation-focused impact investment and research center. Most recently, Corey has joined the Dean's Advisory Board at the University of Central Florida's College of Community Innovation and Engagement.
Corey has a B.S. in Aerospace Engineering and a M.S. in Mechanical Engineering from the University of Central Florida, a Ph.D. in Mechanical Engineering from Texas A&M University, and is a licensed Professional Engineer in Texas. He has been recognized as a National Urban League Young Professionals "Heroes in the Movement" Award winner, a Black Engineer of the Year Award – "Modern Day Technology Leader" recipient, as the NSBE Professionals e.E.M.M.Y – "Industry Rising Star" recipient, as a Portland Business Journal 2017 "Forty Under 40" classman, and a 2018 Emerald Award Winner, Corporate category, for dedication and commitment to impacting the community, from the Zeta Sigma Omega Chapter of Alpha Kappa Alpha Sorority, Inc.