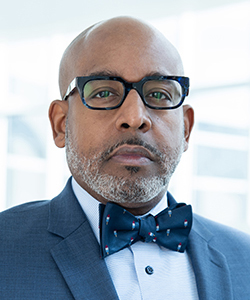 Larry Walker, Ed.D.
Assistant Professor
Educational Leadership
Previously Dr. Walker served as a lecturer at Loyola University Maryland. In addition, he held a faculty appointment at Howard University. He has nearly a decade of experience working in rural, urban, and suburban school districts. Dr. Walker's research has four threads including 1) examining the traits of successful leaders (i.e., PreK-12, higher education, policymakers); 2) recruitment and retention of Black male teachers; 3) examining the impact environmental factors have on the academic performance and socio-emotional functioning of Black students throughout the education pipeline (PreKPhD)and 4) investigating how federal and state policies impact under-served and marginalized populations. Dr. Walker has co-edited two books, authored/coauthored several peer reviewed journal articles and book chapters. Further, he served as the Legislative Director for former Congressman Major R. Owens.
Education
Doctor of Education
Morgan State University
Research Interests
Examining the impact leadership and policy decisions have on educational organizations
Investigating the experiences of Black students throughout the education pipeline (PreK-PhD)
Analyzing efforts to recruit and retain teachers from diverse backgrounds.