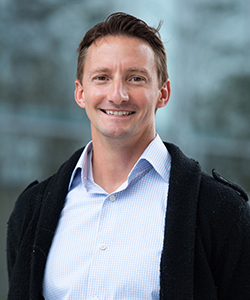 Justin Miller, M.A.
Program Manager I
Center for Public and Nonprofit Management
Professional Summary
Justin Miller is an Orlando, Florida native, with 23+ years of public service in military intelligence and cryptology and non-profit leadership.
Justin is a retired U.S. Navy Senior Chief Petty Officer, Cryptologist, and Intelligence Analyst (CTRCS) and experienced nonprofit executive. He spent his 20-year Navy career as a signals intelligence expert, which included service in support of strategic, operational, and tactical missions within various Navy and Joint warfighting communities (Surface Warfare, Naval Special Warfare/Special Operations, Amphibious Warfare, and Cryptologic and Information Warfare) and intelligence missions (collections, analysis and production, research and development, and indications and warnings operations centers). He also served within the Navy's education and training community: he is a Navy Master Training Specialist and served as a course instructor and manager, curriculum developer, and a Navy Rate Training Manager, where he oversaw a network of globally distributed courses. Justin's professional experience includes roles in leadership, administration, research and development, organizational and interagency coordination and planning, program management, learning and development, and telecommunications and computer science technical applications.
He served in support of Operation Enduring Freedom (OEF), Operation Southern Watch (OSW), Operation Iraqi Freedom (OIF) – Liberation of Iraq Phase and National Resolution Campaigns, and in the Republic of [South] Korea during the DPRK Leadership Transition. He also served as the Action Officer and lead for the Navy and NASAs first interagency and joint Underway Recovery Test (URT-1) in support of ORION Multi-Purpose Crew Vehicle mission and procedures development.
Justin has a Master of Arts in Political Science, concentration in Public Policy (AMU) and a Bachelor of Arts in Political Science. He is a graduate of multiple leadership and development courses, including the Navy's Senior Enlisted Academy and the National Security Agency's Mid-Level Executive Leadership Development Program.
He is a New Leaders Council Institute Graduate (Orlando), a Truman National Security Project Defense Council Alum, and an American Military University Political Science Scholar. He is also a member of the American Political Science Association, the Central Florida Navy League, American Legion (Post 243), and is a Lifetime Member of the Veterans of Foreign Wars. He is also a member of the Orlando Mayor's Military Advisory Council, a US Global Leadership Coalition Veterans for Smart Power network member, and a member of the SOFX community.
Justin is a local Lyman High School Graduate ('98) who is married to his high school sweetheart and they have three children.