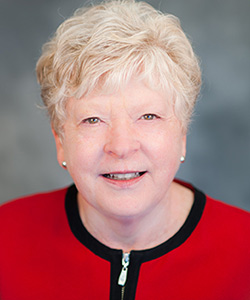 Mary Ann Feldheim , Ph.D.
Associate Professor Emerita
Public Administration
Professional Summary
Mary Ann Feldheim is an Associate Professor Emerita in the School of Public Administration. She was the first woman to earn tenure in the Department of Public Administration.
Her research has focused on normative education and the role of ethics in public and nonprofit management. A key paradigm of her work has been the importance of trust in relationships and in management.
Dr. Feldheim served as Department Chair and then as Founding School Director for ten (10) years. She was instrumental in the creation of the Master of Nonprofit Management, the Master of Urban and Regional Planning, and the Master of Research Administration. As Program Director for the Master of Nonprofit Management (MNM) for twelve (12) years, she spearheaded the accreditation of the program, making it the first nonprofit management program in the world to be accredited by NASPAA.
In 2016 she was awarded the American Society for Public Administration (ASPA) Section for Women in Public Administration award for the advancement of women in public administration. In 2017 she was awarded the University of Central Florida's Women of Distinction Award for Excellence in Mentoring.
Currently Dr. Feldheim is a member of the School of Public Administration's Nonprofit Management Advisory Board. In that role, she is coordinating the Professional Development and Mentoring program for graduate nonprofit students and serving as chair for the Annual Central Florida Community Partners Nonprofit Management Conference. In addition, she is active in the League of Women Voters of Seminole County serving as board secretary and publishing the monthly newsletter.