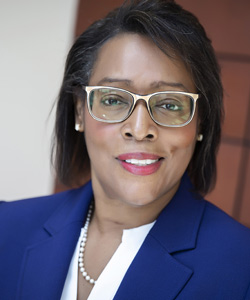 Elizabeth Dooley, Ed.D.
Professor and Special Assignment on Women in Higher Education
Office of the Dean
Professional Summary
Dr. Elizabeth A. Dooley is an experienced academic leader, professor, and scholar with over 30 years of experience in higher education.  For the past 20 years, she has served in key leadership roles at the University of Central Florida (UCF) and West Virginia University (WVU).  She recently served as provost and vice president for academic affairs at the University of Central Florida, one of the nation's largest universities in the country. She was the first woman and African-American to be named provost in the history of UCF.  Prior to her role as provost, she served as Vice Provost for Teaching and Learning and Dean, College of Undergraduate Studies also at UCF.  While at WVU, she served as a department chair, associate provost for Undergraduate Academic Affairs, interim dean, College of Education and Human Performance and Founding Dean of the WVU University College.
Dr. Dooley champions academic excellence and encourages innovation in scholarship, teaching, and learning. She is a highly respected leader who is at the forefront of reimagining higher education for the 21st century. She believes that transformative change only happens when we expand opportunities and value diverse viewpoints. Dr. Dooley has launched initiatives and organizational structures to create system efficiency, leverage the power of technology and build interdisciplinary strength to help solve problems, create economic impact, and empower people through education.
Education
Doctorate of Education: Special Education Teacher Education; Minor: Educational Administration
West Virginia University, Morgantown, WV
Areas of Expertise
Exceptional Student Education; Special Education Teacher Education
Educational Leadership
Curriculum and Instruction
Research Interests
Higher Education in the 21st Century (Research, Policies, Inclusive Excellence, Organizational Structures, Best Practices and Solutions)
Student Success and Access: Role of Technology and Collaborative Solutions; Academic Alignment for Student Success