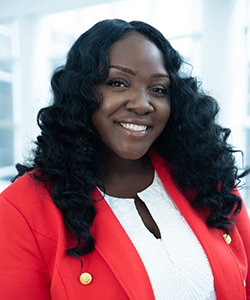 Justina Jackson, Ed.D.
Data Analyst II
UCF Center for Community Schools
Office:
Ferrell Commons C, Room 138
Phone: 407-823-2723
Professional Summary
Justina Jackson, Ed.D. joined the UCF Center for Community Schools in May 2021 as a Data Analyst. In this role, she is responsible for supporting the analysis, processing and understanding of database systems that assist with reporting to state, federal, and other affiliated agencies.
Prior to joining the center, Jackson worked for the School District of Palm Beach County, where she held the position of Family and Community Engagement Coordinator. She was responsible for federal requirements in the area of Family, Parent & Community Engagement and the supervision of family partnership(s) and active parent involvement for families/students. She was also an advocate for Head Start families and promoted their ability to advocate for themselves and ensured the delivery of social services, emergency and non-emergency services, directly or through community referrals. Jackson is also an Adjunct Professor at Palm Beach State College in the Human Services Department where she has taught an array of introductory, implementation, and evaluation courses.
Jackson was born and raised in Tampa, Florida and earned her bachelor's degree in Psychology from Georgia State University and a Master of Social Work from Florida Agricultural & Mechanical University. Most recently, Jackson earned a Doctor of Education from Nova Southeastern University with a dissertation focus on the efficacy of dual language learners enrolled in a federally funded program designed to promote school readiness for impoverished children.