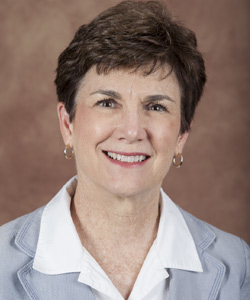 Alice Noblin, Ph.D., RHIA, CCS, PMP
Associate Professor and Interim Associate Dean, Academic Affairs
Global Health Informatics and Information Management Academic Program Coordinator
Phone: 407-823-2353
Alice Noblin, Ph.D., is an associate professor and the director of the health informatics and information management program. She has worked with the department for the past 14 years and has also served as an adjunct instructor for the College of Health Sciences at Brevard Community College. She also has experience working in both hospitals and physician offices.
Noblin received her MBA from Georgia State University and her Ph.D. in Public Affairs from UCF.  She  is credentialed by the American Health Information Management Association as a Registered Health Information Administrator and as a Certified Coding Specialist. She is certified as an ICD-10 Trainer by AHIMA as well.
Noblin is active in the regional, state and national HIM organizations. She is also a panel reviewer for the Commission on Accreditation for Health Informatics and Information Management Education. She is a co-author for the textbook ""Learning to Code with CPT/HCPCS."" She has written several other peer-reviewed publications and has presented her research at academic and practitioner conferences. Her research interests include electronic health records, personal health records, health information exchanges, patient engagement and health literacy.
Dr. Alice Noblin teaches in the Executive Master of Health Administration online program.
Office Hours
Wednesday: 1 pm – 4 pm
Thursday: 8 am – 10 pm