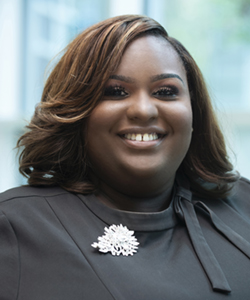 Amanda Wilkerson, Ed.D.
Assistant Professor
Higher Education
Professional Summary
Amanda Wilkerson seeks to build a better world through cooperation, collaboration, and community action. She is an Assistant Professor in the College of Community Innovation and Education at the University of Central Florida and is a proud graduate of Florida A&M University. Amanda has written educational materials and coordinated forums on significant social, educational, and community matters. Amanda served as the guest editor for the Urban Education Research and Policy Annuals Journal-Hillard Sizemore Special Edition. She has written several articles and has one edited book under contract. As a part of her passion for higher education, Amanda is enhancing how students seize the promise of post-secondary learning through the development of instructional leaders who practice equity-based pedagogy. Specifically, she creates and manages collaborative partnerships that provide important services for those who serve underserved student populations. Also, as a passionate supporter of civic engagement, Amanda continues to work on community development projects, charitable causes, and advocacy initiatives for nonprofit organizations and governmental agencies. Her twitter handle is @DrAVWilkerson.
Education
Ed.D. in Higher Education and Policy Studies
University of Central Florida
Research Interests
Explicating affirmative practices, policies, and organizing methods to leverage community partnerships and involvement for student learning;
Deconstructing culturally relevant pedagogical practices associated with teaching underserved student learners within the K-20 classroom; and
Reimagining destigmatizing strategies in student completion, principally on the usage of access, inclusion, and empowerment of underserved student populations.
Recent Honors and Awards
Selected as a Visiting Scholar at Rutgers Graduate School of Education with the Center for Minority Serving Institutions with an appointment for one full year
Immediate past editor of the Urban Education Research & Policy Annuals Journal
Under book contract with Palgrave Macmillan, a top national publisher
Recipient of the Diversity Scholarship with the Adult Higher Education Alliance
Recent Publications
Wilkerson, A., Sims-Chapman, D., Bennet, J. & Carroll, P. (2019). Shifting our focus: Collaborating with urban communities to support African American students. Journal of Urban Education Research and Policy Annuals.
Samuels, S., Watkins, W., Chapman, D. & Wilkerson, A. (In Press). Towards a conceptualization: Considering micro-affirmations as a form of culturally relevant pedagogy and academic growth for K-12 underserved student populations. Journal of Negro Education.
Wilkerson, A. (2019). Cookman Wildcats, Community or Chaos? MSI Unplugged. Retrieved from msisunplugged.com
Wilkerson, A. & Samuels, S. (2019). Proficiency Over Privilege. Diverse Education. Retrieved from diverseeducation.com
Wilkerson, A. Teacher dispositions, systems of support and practitioner preparation. The Multicultural Review. Published online first.