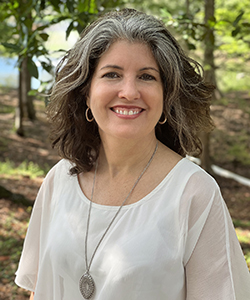 Amy Ellis, Ed.D.
Director II
UCF Center for Community Schools
Office:
Ferrell Commons C, Room 138
Phone: 407-823-2723
Professional Summary
Amy Ellis is director of the Center for Community Schools at the University of Central Florida's College of Community Innovation and Education. The Center for Community Schools serves as a comprehensive resource for technical assistance, university-assisted partnership, training, and assessment and evaluation in the development of high-quality community schools.
Ellis lives by embodying the philosophy iterated by Robert Ingersoll, "We rise by lifting others," and it is with this ideology that she has shaped her life's work and remained dedicated to elevating intention and raising the consciousness of those around her.
Early in her career, Ellis became dedicated to weaving wisdom and practice to empower others in imagining possibilities and clarifying their next steps, setting a vision for their grandest selves, and forging forward toward an inspiring future. She specializes in the development of partnerships that integrate prevention and intervention programs and services into K-12 schools, as well as the scale-up of initiatives that improve collective outcomes.
Ellis has over two decades of experience in leading the development of frameworks aimed to advance systems of practice; studying and honing needle-moving strategies; and harnessing the power of collectives.  Proficient in start-ups and scale-ups, she worked for five years as a senior administrator for Orange County Public Schools, where she successfully launched the first community school of its kind in Florida: Evans High School, A Community Partnership School.  Ellis has since grown and led Florida's community school initiative from this single building concept in 2009 to a 26-site statewide model. That work engaged three distinct but complementary elements to ensure quality, fidelity, and continuous improvement: developing quality standards anchored in the relevant literature and responsive to context; guiding and supporting implementation that aligned to those standards; and developing and implementing a comprehensive assessment and evaluation system that directly informs policy and practice. Recognizing this growth and commitment to quality, the legislature has increased investment in the project since 2004 to over $7.1 million per year.  UCF's Center for Community Schools is now recognized as the international hub for community school advancement, and Florida's model is considered a premier solution for student and family equity and support.
As a highly sought-after leader, facilitator, and coach, Ellis consults with institutions, organizations, groups, and individuals eager to reach their next level of evolution.  Considered an expert in the field of community schools, Ellis has presented statewide, nationally and internationally, and she has formed collaborative partnerships with local practitioners and national/international thought leaders focused on advancing the community schools' field. "We are one" backbones Ellis's efforts, knowing that as she helps to strengthen and grow others, the greater good must rise.
Education
Doctorate in Educational Leadership, University of Central Florida
Master's Degree in Education, Florida State University
Areas of Expertise
Community schools and Community Partnership Schools
Systems, Start-ups, and Scale-ups of initiatives that improve outcomes
State, national and global partnerships
Intervention and prevention programs and services for students