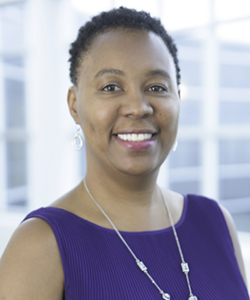 Ann Shillingford-Butler, Ph.D.
Associate Professor
Counselor Education
Phone: 407-823-4753
Professional Summary
M. Ann Shillingford, PhD, commonly referred to as Dr. S by most of her students, is an Associate Professor of Counselor Education at the University of Central Florida in Orlando, Florida. She currently serves as coordinator of the counselor education Ph.D. program at UCF. She has several years of experience as a professional school counselor prior to completing her doctorate at the University of Central Florida. Dr. Shillingford has written several articles and book chapters on multicultural issues particularly focused on disparities among of color. Dr. Shillingford has a keen interest in exploring measures to deconstruct educational, social, and health disparities among marginalized communities. Dr. Shillingford is currently conducting research exploring the effects of media exposure to police and community violence on the physical and mental health of African American mothers raising young black men. She also facilitates a study abroad program with counseling students to the island of Dominica, exploring the multicultural competence of counseling students through a cultural immersion experience. Dr. Shillingford also serves as coordinator for the UCF National Holmes Scholar program (NHS). The NHS is a mentoring program to support students from underrepresented groups in higher education.
The Dr. Shillingford's co-edited book, The Journey Unraveled: College and Career Readiness of African American Students, was published Fall, 2015.
Favorite Quotes
"Wherever you are, be all there" (Jim Elliot)
"We may have come from different ships, but we're in the same boat now" (MLK, Jr.)
"I wish I could shut up; I can't, I won't" (Desmond Tutu)
"This too shall pass" (n.d.)
Education
Ph.D. in Counselor Education & Supervision
The University of Central Florida
Areas of Expertise
School Counseling
Counseling & Internationalization
Counselor Education & Supervision
Research Interests
Using strength-based approaches to support children and youth of color
Addressing On-going Trauma and Masking among African American Women
Culturally Responsive School-Family-Community Partnerships
Addressing Multicultural Competence of Counseling Students through Immersion Experiences
Recent Publications
Harris, P., Shillingford, M. A., Bryan, J. (Revise & Resub, 2018). Factors Influencing School Counselor Involvement in Partnerships with Families of Color: A Social Cognitive Exploration. Submitted to Professional School Counseling journal.
Shillingford, M. A., Oh, Seungbin, &, Finnell, L. (2018). Perceptions of Parents of Color towards STEM professions: A School Counselor Leadership Engagement. Accepted proposal for Special Issue in Professional School Counseling journal. DOI
McAdams, C., Shillingford, M. A., & Trice-Black, S. (2017). Putting research into practice in school violence prevention and intervention: How is school counseling doing? In T. P. Remley, Jr., W. D. Rock, & R. M. Reed (Eds.), Ethical and legal issues in school counseling (4th ed.)(pp. 269-287). Reprinted article from Journal of School Counseling, 9(12).
Oh, S., Jones, K. D., & Shillingford, A. (2017). Multicultural competent assessment: Guidelines for multicultural interviewing. Virginia Counselors Journal, 35.
Mitchell, M. & Shillingford, M. A. (2016). A journey to the past: Promoting identity development of African Americans through ancestral awareness. The Family Journal, 25, 63- 69
Curry, J. & Shillingford, M. A. (2015). The journey unraveled: College & career readiness of African American students. (Edited). Rowman & Littlefield Pub.
Current Funded Projects
Shillingford, M. A., Kelchner, V, & Butler, S. K. (2016). Exploration of school-based counseling services on students and their families in urban school settings. UCF: Dean's Office. Proposed Amount $14, 736.64. (FUNDED, $15, 000.00)
Shillingford, M. A., Joe, R., & Oh, S. (2016). Exploring the Physical and Mental Health of African American Mothers Raising Boys and Young Men. Toni Jennings, Exceptional Education Institute. Proposal Amount $7200 (FUNDED)
Professional Organizations
American Counseling Association
Association for Counselor Education & Supervision
American School Counselor Association
Association for Multicultural Counseling & Development
Southern Association for Counselor Education & Supervision
Florida School Counselor Association