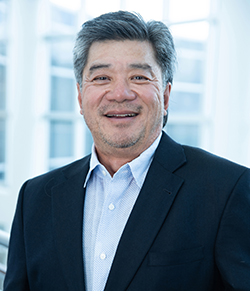 Atsusi "2c" Hirumi, Ph.D.
Professor
Instructional Design and Technology
Professional Summary
Dr. Hirumi is a Professor of Instructional Technology at the University of Central Florida. Born in New York, Dr. Hirumi spent most of his formative years growing up in Nairobi, Kenya, East Africa. He received his B.S. in biology from Purdue University with a secondary teacher certification in biology and general science. He received his M.A. in Educational Technology from San Diego State University and his Ph.D. in Instructional Systems from Florida State University. Dr. Hirumi's work focuses on developing systems to train and empower K12, university and corporate educators on the design, development and delivery of interactive distance education programs. His research concentrates on the design and sequencing of e-learning interactions. He has published over a dozen articles, several book chapters, and has made over 50 presentations at international, national and state conference on related topics. Recent awards include the Texas Distance Learning Association award for commitment to excellent and innovation, the Star Faculty Award for outstanding teaching, research and service, and he is the only two time recipient of the WebCT exemplary online course award.
Areas of Expertise
Instructional Design and Technology