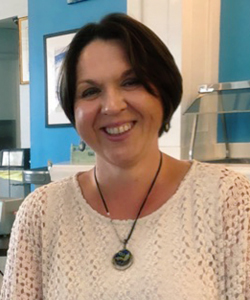 Audra Skukauskaitė, Ph.D.
Associate Professor
Methodology, Measurement, and Analysis
Professional Summary
Dr. Audra Skukauskaitė comes to UCF from positions as a research consultant for the Lemelson-MIT invention education program at the Massachusetts Institute of Technology, senior research scientist at Klaipeda University, Lithuania, and adjunct professor for qualitative research methodology at Saybrook University. Dr. Audra has taught qualitative research methodology and research design courses for over thirteen years in graduate programs in Texas, California, and Lithuania and has led seminars on interviewing, ethnography, discourse analysis, narrative research, academic writing for international publication and others for faculty and doctoral scholars across Lithuania as well as in Finland, Sweden and Australia. Dr. Skukauskaite has published multiple academic articles and book chapters on research methodology, transparency and the teaching and learning of research. Her recent work with MIT  has also led to publications in the emerging field of invention education and co-editing of a special issue of the National Academy of Inventors journal Technology & Innovation. Dr. Skukauskaite serves on editorial boards of four journals and has an extensive experience of reviewing and supporting the writing of manuscripts for academic publications. Over the past 16 years, Dr. Skukauskaite has served in multiple leadership positions in the American Educational Research Association, including as chair of the Equity and Mentoring committees and program chair of the Qualitative Research section of the Measurement and Research Methodology Division (D). Currently she serves on as chair of the John. J. Gumperz Lifetime Achievement Award committee of the Language and Social Processes SIG and is a member of the Division D communications committee. Dr. Audra's interests focus on teaching and learning of research methodology within and beyond doctoral programs, transparency in ethnographic and qualitative research design and reporting, invention education, and learning and access to research internationally. Her overarching research  interests focus on ways of utilizing research-based ways of thinking and knowing to develop deeper understandings of the complex processes and practices of learning, teaching, and living in dynamic academic, socio-historical, economic, and cultural environments.
Education
Ph.D., University of California, Santa Barabara
Areas of Expertise
Qualitative and ethnographic research methodology
Interviewing
Research design
Research Interests
Teaching and learning of research
Invention Education
Doctoral education
Recent Publications
Skukauskaitė, A. (2019). Constructing transparency in designing and conducting multilayered research in science and engineering education. In G. Kelly & J. Green (Eds.), Theory and methods for sociocultural research in science and engineering education (pp.234-255) Routledge.
Couch, S., Skukauskaitė, A., & Estabrooks, L. B. (2019). Invention education and the developing nature of high school students' construction of an "inventor" identity. Technology & Innovation, 20(3), 285-302. doi.org
Skukauskaitė, A., Noske, P. & Gonzales, M. (2018). Designing for discomfort: Preparing students for journeys through qualitative research. International Review of Qualitative Research, 11(3), 334-349.
Skukauskaitė & Rupšienė. (2017). Teaching and learning qualitative methodologies in the context of developing doctoral education in Lithuania. Acta Paedagogica Vilnensia. 39(2), 61-82. doi.org
Skukauskaitė, A. (2017). Systematic analyses of layered meanings inscribed in interview conversations: An Interactional Ethnographic perspective and its conceptual foundations. Acta Paedagogica Vilnensia, 39(2), 45-60. doi.org
Professional Organizations
American Educational Research Association
Lithuanian Educational Research Association
ISLS: International Society of the Learning Sciences