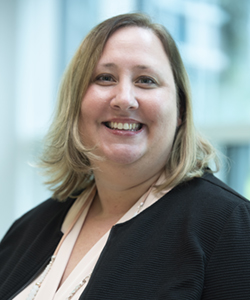 Bethany Backes, Ph.D., MSW, MPH
Assistant Professor
Criminal Justice
Phone: 407-823-0631
Professional Summary
Dr. Backes is an Assistant Professor in the Violence Against Women Faculty Cluster Initiative at the University of Central Florida and holds a joint appointment in the Department of Criminal Justice and School of Social Work. Her areas of scholarship broadly encompass research and evaluation on violence against women (VAW) and crime victimization including formal and informal help-seeking trajectories, secondary and tertiary violence prevention strategies, and criminal justice and community-based interventions related to interpersonal violence. Dr. Backes spent a decade directing research and evaluation on VAW and violent victimization at the National Institute of Justice/U.S. Department of Justice. Her oversight of NIJ's Violence Against Women Program of Research led to the development of major initiatives and rigorous study on sexual assault forensics and case attrition, domestic violence homicide, and criminal justice and community-based responses to violence against women. She developed and instituted a researcher-practitioner program to support junior and senior researchers in establishing on-the-ground collaborations to tackle prominent criminal justice issues at the local level. Prior to NIJ, Backes spent several years in the direct services, research, and health education fields primarily focused on victimization and injury prevention. Her overarching goal is to develop and adapt measures, methods, and interventions to enhance victim engagement and autonomy at the systems level (health, community-based, and criminal justice).
Education
PhD in Social Work, University of Maryland Baltimore
MSW in Social Policy and Evaluation, University of Michigan
MPH in Health Behavior and Health Education, University of Michigan
Areas of Expertise
Violence against women
Quantitative research methods
Administrative and large data sets
Research Interests
Violence Against Women
Multidisciplinary responses to victims
Victim help-seeking trajectories
Recent Publications
Backes, B., Holmes, J.L., & Fedina, L. (accepted for publication). The criminal justice
system response to intimate partner stalking: A systematic review of quantitative and qualitative research. Journal of Family Violence.
Rosay, A. & Backes, B. (accepted for publication). Psychometric analyses of stalking
measures from the National Intimate Partner and Sexual Violence Survey. Journal of Family Violence.
Fedina, L., Backes, B., Sulley, C., Wood, L., Busch-Armendariz, N. (2019). Prevalence and
sociodemographic factors associated with stalking victimization among college students. Journal of American College Health. doi: 0.1080/07448481.2019.1583664
Lee, J. & Backes, B. (2018). Civil legal aid and domestic violence: A review of the literature
and promising directions. Journal of Family Violence. Online First doi: 10.1007/s10896-018-9974-3
Fedina, L., Backes, B., Jun, H.J., Shah, R., Nam, B., Link, B.G., & DeVylder, J.E. (2018).
Police violence among women in four U.S. cities. Preventative Medicine. Advance online publication. DOI
Current Funded Projects
2019 – 2020
Criminal Justice Division, Office of the Governor, State of Texas
Evaluation of Residential Services at Fort Bend Women's Center Collaboration with Ft. Bend Women's Center
Role: Co-Principal Investigator
Amount: $399,188
2018 – 2019
Criminal Justice Division, Office of the Governor, State of Texas
Recording Victim Video Statements as Evidence to Advance Legal Outcomes in Family Violence Cases (ReVEAL): Rural Implementation and Emerging Technologies.
Role: Principal Investigator
Amount: $250,000
2018 – 2022
The Caruth Foundation and The Moody Foundation
Institute for Coordinated Community Response
Crimes Against Women/Genesis House
Collaboration with J. Temple (PI)
Role: Co-Principal Investigator
Amount: $152,736 (Subcontract)
2019 – 2020
National Institute of Justice
Rutgers Violence Against Women Research Consortium
Patterns of Poly-Victimization Exposure Across Racial and Ethnic Populations in the U.S.: Findings from The National Intimate Partner and Sexual Violence Survey (NISVS)
(2016-MU-CS-K011)
Collaboration with L. Fedina (PI)
Role: Co-Principal Investigator
Amount: $24,598
Faculty Related Links
Professional Organizations
American Society of Criminology
Society for Social Work and Research