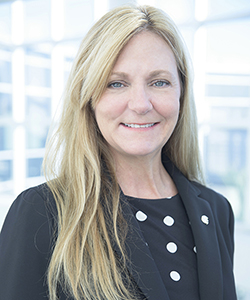 Bonnie Swan, Ph.D.
Program Director I
Program Evaluation and Educational Research (PEER)
Phone: 407-823-1351
Professional Summary
Dr. Bonnie Swan is a nationally recognized expert in program evaluation, assessment, and applied social research. She is currently the Director for Program Evaluation and Educational Research Group (PEER), a service center at the University of Central Florida (UCF) where she has been responsible for conducting contract evaluations and research both on campus and with outside agencies and institutions for over a decade. Her standing in the field was recognized by receiving the Florida Educational Research Association (FERA) Educational Researcher of the Year award in 2015. Additionally over the last decade, she has served in leadership roles, including President of the National Association of Assessment Administrators (2014–15), Board Member/Co-Chair Program Committee for the Southeast Evaluation Association (2013–current), and President of FERA (2011–12). She also teaches graduate-level evaluation courses and serves on several committees, all aimed at improving education.
Education
Ph.D., Education
University of Central Florida
Areas of Expertise
Program Evaluation
Applied Social Research
Assessment
Recent Publications
Author of over two hundred research/evaluation reports for federal and state government agencies as well as service providers.
Current Funded Projects
A list of recent projects she has been involved with is located here.
Faculty Related Links
Professional Organizations
American Evaluation Association (AEA)
American Educational Research Association (AERA)
Directors of Research & Evaluation (DRE)
Florida Education Research Association (FERA), President 2011–12
National Association of Assessment Directors (NAAD), President 2014–15
Southeast Evaluation Association (SEA), Board Member 2013–Current