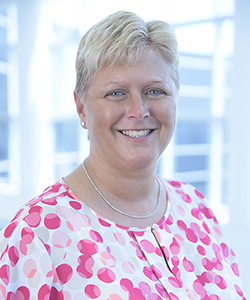 Cyndi Walters, M.Ed.
Associate Instructor
Elementary Education
Office:
Valencia/Osceola Campus
Phone: 352-323-3605
Professional Summary
Cynthia Walters is an Associate Instructor at the University of Central Florida in the College of Community Innovation and Education School of Teacher Education. She earned her Masters in the Art of Teaching with an emphasis in Reading from Aquinas College and her undergraduate degree in Elementary Education with an emphasis in Reading and Early Childhood Education at Western Michigan University. Cyndi is a teacher practitioner, focusing her attention on creating innovative and engaging class meetings for teacher candidates. She enjoys serving as a regional campus coordinator and advisor, coordinating interns in Osceola County Schools. Her current projects include: providing personalized PD for classroom teachers through real time classroom coaching, facilitating National Read for the Record and Global Read Aloud involvement for regional students, and helping teachers bridge the gaps for English Learners in both content and language. She believes that smiles are contagious, all students can learn, and she strives to make a positive difference every day!
Education
Elementary Education, MAT
Aquinas College
Areas of Expertise
Elementary Education
Reading
Classroom Management
Integration of the Arts
Mixed-Reality Scenario Design
Recent Honors and Awards
President Obama's Service Award, 2017
UCF Associate Instructor Promotion, 2016
UCF College of Education Teaching Incentive Program, 2014
UCF Award for Excellence in Undergraduate Faculty Advising, 2014
Recent Publications
Cardullo, V., Jacques, P., Knox, C., Lavendol, V., Miller, A., Morrison, B., Walters, C., Walters, L. (2012) Can We Maintain Excellence in Education with Increasing Enrollments and Dwindling Resources? Vol. 11, No. 1.University of Central Florida Faculty Focus.
Walters, C. (2007) Write What You Think. Carson-Dellosa Publishing Company, Inc. Greensboro, North Carolina.
Professional Organizations
Association of Teacher Educators (ATE)
Southeastern Regional Association of Teacher Educators (SRATE)
Florida Association of Teacher Educators (FATE)
International Literacy Association (ILA)
Florida Reading Association (FRA)
National Council of Teachers of English (NCTE)
Florida Alliance for Arts Education (FAAE)
Association for Childhood Education International (ACEI)