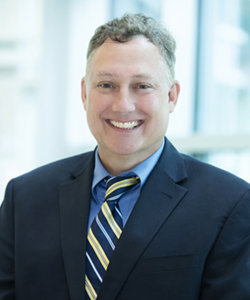 Daniel Eadens, Ed.D.
Associate Professor
Educational Leadership
Phone: 407-823-4751
Professional Summary
Dr. Daniel Eadens is an associate professor in the Department of Educational Leadership and Higher Education. Before coming to UCF, Dr. Eadens was the assistant department chair, study abroad coordinator and tenured associate professor of educational leadership at Northern Arizona University. In his early career, he taught elementary school music, middle school special education math and science, and was a behavior specialist and school administrator at several Florida public schools. Dr. Eadens is a retired Army Reserve major with foreign service in Japan and Iraq. His research focuses on critical issues in education, such as school safety, social justice and school boards. He also co-edited the book Social Justice Instruction: Empowerment on the Chalkboard, and remains active in professional associations and his research. Dr. Eadens has published peer-reviewed journals, chapters, a book, book reviews, online professional publications, is an editor, and reviews for a half dozen professional journals.
Education
Ed.D. in Educational Leadership and  Policy Studies
University of South Florida (Tampa campus)
Research Interests
School Safety
School Finance
School Boards
Recent Honors and Awards
Exemplary Performer Rating performing in the Top 15% of all COE faculty at NAU
Recipient of the Hampton E. Williams Research Award at ASM
Recipient of the Jack Mulcahy Award for the Best Doctoral Dissertation presented by The Association for the Advancement of Educational Research and The National Academy for Educational Research
Berbecker Fellowship/Doctoral Graduate Assistantship, USF
Fulbright, (FMF) Tskuba, Ibaraki Prefecture (Science City) Tokyo, Japan
Recent Publications
Eadens, D. W. (2019). Arizona. In Funding Public Schools in the United States and Indian Country. Editors David C. Thompson, R. Craig Wood, S. Craig Neuenswander, John M. Helm, & Randy D. Watson: Information Age Publishing, Inc. PO Box 79049 Charlotte, NC 28271-7047.
Eadens, D. W., Eadens, D. M., Bashar, K., & Ryadh, M. (2019). Religion, War, and Terror: Insights and Safety Lessons for Educators. In R. Papa (Ed.), International Perspectives on School Violence. Springer International.
Eadens, D.W., Labat, M., Papa, R., Eadens, D.M., & Labat, C. (2018). School safety and gun violence in America. In Papa, R., & Armfield, S. (Eds.), Wiley Handbook of Education Policy. Wiley Publishing.
Olson, C, & Eadens, D. W. (2018). Broader thinking in educational leadership decisions. Journal of Ethical Educational Leadership, 5(3), 1-12.
Mullen, C. A., & Eadens, D.W. (June, 2018). Quality leadership matters: A research-based survey of graduate programming. Journal of Research on Leadership Education, 13(2), 1-39.
Current Funded Projects
PI: Eadens, D.W. NAU Faculty Grants Program
Title: Improving Education Systems: Policies, Organization, Management, and Leadership.
Goals to research board effectiveness literature and collect data about Arizona school board member utilization of trainings in order to compare among and between group differences with regards to district's overall A-F achievement scores. This project will lead to the collection of critical information and data analysis regarding the relationship between school district overall academic A-F achievement success and collective board years of service experience, type, and amount of annual training received. Archival data from the Arizona School Board Association logs will be coded and statistically analyzed using descriptive statistics, t t-tests, ANOVA, and Multiple Regression. This ex post fact analysis is crucial for school board professional development reform. Enhanced and more accessible trainings could lead to increased board effectiveness, governance teaming, decision making, and ultimately higher academic achievement of students per districts. Additionally, results of this study will be shared for reform, published in a professional journal, and data will be directly utilized to strongly increase the competitiveness of procuring an external, five million dollar grant: Improving Education Systems: Policies, Organization, Management, and Leadership CFDA 84.305A, (Institute of Education Sciences, 2013). The grand total requested and awarded/funded was $10,964.00
PI: Eadens, D.W. NAU Provost's Grant. Conference name, location and dates: Council for Exceptional Children 2018 Convention & Expo. Dan's presentation will be Saturday, Feb 10, 2018, 1:00 PM ­ 2:00 PM (#4478) in the Tampa Convention Center, 333 S. Franklin Street, Tampa, FL 33602., Room: 7. Dan travels Feb 9 and 12, attends conference Feb 10-11. Title of accepted paper or presentation: Administrators Promoting Inclusive Classrooms Through Universal Design. Primary Topic Area: Administration/Supervision. Secondary Topic Area: Measuring Special Education Teacher Effectiveness. Awarded
PI: Eadens, D.W. NAU Deans Travel Grant. ASSOCIATION FOR THE ADVANCEMENT OF EDUCATIONAL RESEARCH INTERNATIONAL. 2018 AAERI Conference: November 6 – 9, 2018, Sanibel, Florida. www.aaer.org.
Professional Organizations
Arizona School Board Association
Arizona School Administrators Association
Association for the Advancement of Educational Research
American Educational Research Association
Classroom Teachers Association
Council for Exceptional Children: Teacher Education Division
Hillsborough County Technical and Career Association
National Council of Professor of Educational Administration
National Education Association
University Council for Educational Administration
Phi Delta Kappa
Southern Mississippi Law Association