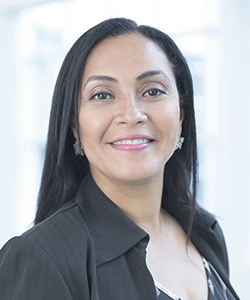 Elsie Olan, Ph.D.
Associate Professor
English Language Arts Education
Phone: 407-823-5179
Education
Ph.D. in Curriculum and Instruction – Language, Culture and Society
Area of specialization: Language and Literacy
The Pennsylvania State University
Areas of Expertise
Secondary Teacher Education
English Language Arts
Literature, Language and Literacy
Research Interests
The role of language and writing, literacy, literature and diversity in learning and teaching in language arts and cross-disciplinary education
Teaching and teacher education: Teachers' narratives, inquiries and reflective practices in (local and international) teaching environments and professional development settings
Recent Honors and Awards
Best Article Award (2017); English Leadership Quarterly
William R. Jones Outstanding Mentor Award (2015); Florida Education Fund
Recent Publications
*Denotes student collaboration (direct supervision) on scholarly publications
Lopez, A. E. & Olan, E. L. (Eds.). (2018). Transformative pedagogies for teacher education: moving towards critical praxis in an era of change. Charlotte, NC: Information Age Publishing.
Olan, E. L. & Mishra, R. (2018). Narrative Pedagogy as a Mindful Contemplative Practice: Discovering Preservice Teachers' Mindful Presence. In Byrnes, Dalton &Dorman (Eds). Impacting Teaching and Learning: Contemplative Practices, Pedagogy, and Research in Education (pp.67-77). Maryland, NY: Rowman and Littlefield Publishers.
Olan, E. L. & Richmond, K. J. (2017) Disrupting the dominant narrative while finding harmony: beginning English teachers' use of young adult literature and culturally responsive pedagogy. Journal of Language and Literacy (JOLLE).
Vu, M.A*. & Olan, E. L. (2017). Rosenblatt's reading in the middle: Using aesthetic strategies coupled with state standards to fluctuate between efferent and aesthetic stances. Connections.
Olan, E. L. & Richmond, K. J. (2017). Storying our journey: conversations about and reflections on curriculum development, the literary canon, and courses in secondary english education. The Wisconsin English Journal.
Olan, E.L. & *Belló, P. (2016). The relationship between language, culture and society: Teachers of English as a foreign language (EFL) positioning in society. GIST Education and Learning Research Journal.
Olan, E.L. & *Belló, P. (2016). Understanding teachers' career choices: Narratives from international in-service teachers of English as a Foreign Language (EFL). Argentinian Journal of Applied Linguistics,4(1), 23-42.
Olan, E.L. & Richmond, K. J. (2016). Conversations, Connections, and Culturally Responsive Teaching: Young Adult Literature in the English Methods Class. English Leadership Quarterly.
Professional Organizations
International Chapter NAME International Chapter, 2015-Present
Commission on Writing Teacher Education (CEE), 2015-Present
Florida Reading Association (FRA), 2014-Present
International Literacy Association (ILA), 2014-Present
Central Florida Literacy Council (CFLC), 2014-Present
Assembly on Literature for Adolescents of the NCTE (ALAN), 2013-Present
Member of Conference of English Education (CEE), 2010-Present
Member of American Association of Colleges for Teacher Education (AACTE), 2008-Present
Member of Conference of English Leadership (CEL), 2008-Present
Member of American Educational Research Association (AERA), 2008-Present
Member of National Council of Teachers of English (NCTE), 2004-Present