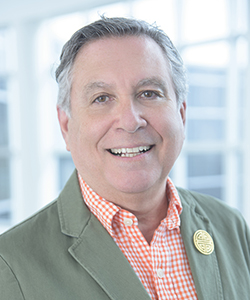 Enrique Puig, Ed.D.
Director
Morgridge International Reading Center
Phone: 407-823-4247
Professional Summary
Enrique A. Puig has over 36 years of experience in education with experiences varying from K-12 classroom teaching, literacy coaching, to Reading Recovery®. He has been recognized as a Title I Distinguished Educator by the Florida Department of Education and worked as an education consultant for numerous school districts from Washington to the U.S. Virgin Islands and major publishing companies. He has presented on various aspects of K-12 literacy acquisition and instruction at state, regional, national and international conferences (New Zealand, England, Ireland, Finland, Hungary, Sweden, Canada, Austria, Spain, and Scotland). Currently, Enrique is the director of the UCF Morgridge International Reading Center. He teaches undergraduate and graduate K-12 Content Area Reading and Diagnostic Reading courses in the College of Education and Human Performance at the University of Central Florida. He is co-author of The Literacy Coach: Guiding in the Right Direction, 2 ed. (Allyn & Bacon/ Pearson), The Literacy Leadership Team: Sustaining and Expanding Success (Allyn & Bacon/ Pearson) and author of Guided Reading and Spanish-speaking Children (Scholastic). He is currently the program subcommittee chair for the literacy coaching strand of the Reading Recovery and Literacy K-6 2017 conference and President-Elect for the Florida Reading Association.
Education
Ed.D. in Curriculum and Instruction
University of Central Florida
Areas of Expertise
Literacy acquisition and instruction
Literacy coaching
Diagnostic reading
Research Interests
Adolescent literacy intervention
Zone of Mesial Development
Zone of Distal Development
Professional Organizations
Reading Recovery Council of North America
International Literacy Association
Florida Reading Association
Florida Literacy Coaches Association
Central Florida Literacy Council
Literacy Research Associates
National Council of Teachers of English
Florida Council of Language Arts Supervisors
United Kingdom Literacy Association
Florida Alliance for Arts Education