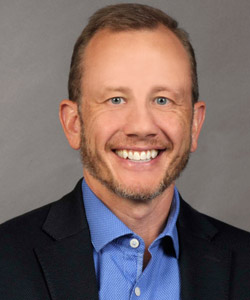 Eric Merriam, J.D.,LL.M.
Associate Professor
Legal Studies
Phone: 407-823-3074
Professional Summary
Professor Merriam is an associate professor with a joint appointment to the Legal Studies and Political Science Departments at UCF. His research and teaching interests focus on national security law and constitutional law, focusing especially on constitutional issues associated with military service. Before arriving at UCF, Professor Merriam was an assistant professor at the United States Air Force Academy, where he received the Outstanding Academy Educator Award for excellence in teaching. Prior to entering academia, Professor Merriam practiced law as an active duty judge advocate in the United States Air Force, and as an associate attorney at the international law firm K&L Gates LLP. He currently practices law part time as a judge advocate in the United States Air Force Reserve, through which he is currently assigned as a legal adviser for the International Military Committee, North Atlantic Treaty Organization (NATO), in Brussels, Belgium.
Education
J.D., University of Virginia
LL.M., The George Washington University
Areas of Expertise
Constitutional Law
National Security Law
Military Law
Research Interests
Constitutional Law
National Security Law
Legal History
Recent Honors and Awards
Thomas P. Keenan, Jr. Award, 2015, United States Air Force ("most outstanding contribution to the development of international and military operations law" in the United States Air Force)
Outstanding Academy Educator, 2014-15, United States Air Force Academy
Meritorious Service Medal (military service)
Joint Commendation Medal (military service)
Recent Publications
Fire, Aim, Ready! Militarizing Animus: Unconstitutional "Unit Cohesion" and the Transgender Ban, 123 DICKINSON (PENN ST.) L. REV. 57 (2018)
National Guard, in THE CRIMINAL JUSTICE SYSTEM, 2D ED. (Michael Hooper ed. 2017)
Academic Freedom in the "Guarded" Institution, 14 FIRST AMEND. L. REV. 1 (2016) (with Douglas B. McKechnie)
IN A TIME OF TOTAL WAR: THE FEDERAL JUDICIARY AND NATIONAL DEFENSE, 1940-1954 (with JOSHUA E. KASTENBERG; Ashgate Press, 2016)
Professional Organizations
Admitted to practice before the following courts:
United States Supreme Court
Court of Appeals for the Armed Forces
Air Force Court of Criminal Appeals
Supreme Court of Pennsylvania