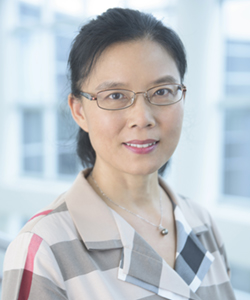 Haiyan Bai, Ph.D.
Professor
Methodology, Measurement, and Analysis
Professional Summary
Dr. Haiyan Bai is a professor in the College of Community Innovation and Education at the University of Central Florida. She earned her Ph.D. in quantitative research methodology at the University of Cincinnati. Her research interests include issues that revolve around statistical/quantitative methods, specifically, propensity score methods, resampling techniques, research design, measurement, and the applications of statistical methods in educational research and behavioral sciences. Her publications include books, book chapters, articles in refereed national and international journals, and refereed international conference proceedings. She has also given lectures, talks, and many refereed professional presentations at the international/national and the regional levels and won grants from National Science Foundations (NSF) and U.S. Department of Education.
Dr. Bai teaches face-to-face, fully online, and mixed mode graduate level research method, measurement, and statistical courses. She has chaired/co-chaired or served on many doctoral dissertation committees. In addition, Dr. Bai not only serves on university, college, and department committees, but she is also involved with international activities in education. Furthermore, Dr. Bai consistently provides her statistical consultation services to her colleagues and works closely with local public school districts in large-scale educational research projects. Additionally, Dr. Bai is a manuscript/proposal reviewer for refereed journals, international/national and regional conferences, publishers, and a federal/state grant reviewer.
Education
Ph.D., University of Cincinnati, Ohio
Areas of Expertise
Statistics
Measurement and Evaluation
Quantitative Research Design
Research Interests
Statistical causal inference with selection bias
Educational measurement and evaluation
Recent Honors and Awards
2017 and 2013 College of Education and Human Performance Excellence in Research Award
2016 Research Incentive Award (RIA)
2016 and 2011 Teaching Incentive Program Award (TIP)
2016 and 2011 Scholarship of Teaching and Learning (SoTL) Award
2012 College of Education and Human Performance Excellence in Graduate Teaching Award
Recent Publications
Bai, H., Aman, A., Xu, Y., Orlovskaya, N., & Zhou, M. (2016). Effects of web-based interactive modules on engineering students' learning motivation. American Journal of Engineering Education, 7(2). 84-96.
Bai, H. (2015). Methodological considerations in implementing propensity score matching. In W. Pan & H. Bai (Eds.), Propensity Score Analysis: Fundamentals and Developments. New York, NY: Guilford Publications, Inc.
Bai, H., Sivo, S., Pan, W., & Fan, X. (2015). Application of a new resampling method to SEM: A comparison of S-SMART with the bootstrap. International Journal of Research & Method in Education, 1-14.
Bai, H., & Martin, S. (2015). Assessing the needs of training on inclusive education for public school administrators. International Journal of Inclusive Education, 1-15.
Bai, H. (2013). A Bootstrap procedure of propensity score estimation. Journal of Experimental Education, 81(2), 157-177.
Current Funded Projects
Project ELEVATE (English Learner Excellence eVolving through Advanced Teacher Education) (Funded by the U.S. Department of Education, collaborating with Seminole County Public Schools, five-year award since 2016)
Interactive Web-Based Visualization Tools for Gluing Undergraduate Fuel Cell System Courses (Funded by National Science Foundation (NSF), three-year award since 2013)
Professional Organizations
American Educational Research Association
Division D: Measurement and Research Methodology Special Interest Group
Educational Statisticians Special Interest Group
Multilevel Modeling Special Interest Group
Structural Equation Modeling
Multiple Regression
American Statistical Association
American Evaluation Association