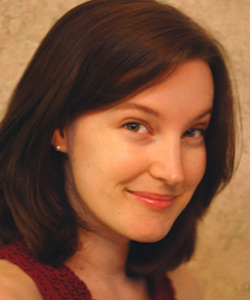 Kathleen Ingraham
Program Director I
TeachLivE
Phone: 407-823-1312
Professional Summary
Dr. Kate Ingraham's research interests include the design and performance of virtual characters in simulated learning environments, the effect of design choices on learning outcomes, and the application of virtual learning environments in interpersonal contexts. She has developed virtual characters and training scenarios for teachers, administrators, physicians, nurses, counselors, law enforcement officers, and middle school students across a wide range of research studies and funded projects.
Education
Ph.D. in Instructional Technologies
University of Central Florida
Areas of Expertise
Simulation Training
Instructional Design
Interactive Performance
Research Interests
Virtual Reality
Simulation Design
Virtual Performance
Recent Publications
Ingraham, K.M, Romualdo, A., Fulchini Scruggs, A., Imperiale, E., Dieker, L., & Hughes, C. (2020). Developing an Immersive Virtual Classroom: TeachLivE – A Case Study. In Current and Prospective Applications of Virtual Reality in Higher Education, 118-144.
Ingraham, K.M., Hughes, C. E., Taliaferro, L., Westers, N., Dieker, L., & Hynes, M. (2019). Using Digital Puppetry to Prepare Physicians to Address Non-Suicidal Self-Injury Among Teens. In Antona M., Stephanidis C. (Eds) Universal Access in Human-Computer Interaction. Theory, Method and Tools. HCII 2019. Lecture Notes in Computer Science, Volume 11572, Springer Nature, Switzerland. 555-568.
Hughes, C. E., Epstein, J. A., Hall, T., Ingraham, K. M., & Hughes, D. E. (2016). Enhancing Protective Role-Playing Behaviors through Avatar-Based Scenarios. Proceedings of 4th International Conference on Serious Games and Applications for Health (IEEE SeGAH), 1-7.
Hughes, C. E., & Ingraham, K. M. (2016). De-escalation training in an augmented virtuality Space. IEEE Virtual Reality (IEEE VR 2016), March 19-23, Greenville, SC. (Poster, Short Paper and Presentation).
Ingraham, K.M. (2014) Examining emotional responses to effective versus ineffective virtual buddies. Ph.D. Dissertation., Orlando, Fla: University of Central Florida.