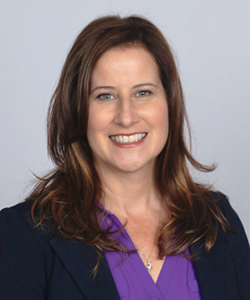 Lisa Brooks, Ed.D.
Associate Lecturer
Mathematics Education
Professional Summary
Dr. Brooks has been a faculty member in the College of Community Innovation and Education since 2009. She is a Lockheed Martin Scholar with a master's degree in mathematics and science education. She earned a doctorate degree in curriculum and instruction, with a focus on mathematics education. She is certified in elementary education, primary education, and ESOL. She has experience presenting at state, national, and international conferences for mathematics and science. She is a published author of multiple books and articles in state, national and international journals. Her research interests are focused on helping preservice and practicing teachers facilitate student discourse to increase conceptual understanding of mathematics.
Education
Ed.D. in Curriculum and Instruction, Mathematics Education
University of Central Florida
Areas of Expertise
Mathematics Education
Elementary Education
Professional Development
Research Interests
Facilitating student discourse and conceptual understanding in elementary mathematics
Supporting teachers to implement best practices in mathematics education
Developing inclusive practices in elementary education
Recent Honors and Awards
Teaching Incentive Program Recipient, University of Central Florida
Instructor/Lecturer Promotion and Tenure Recipient, University of Central Florida
PRISM Outstanding Mathematics Teacher Award
Outstanding Thesis Award, UCF College of Education and Human Performance
Recent Publications
Dixon, J. K., Brooks, L. A., Carli, M. R. (2018). Making sense of mathematics for teaching the small group. Bloomington, IN: Solution Tree Press.
Selected as a 2020 Teachers' Choice Award winner for Professional Development. This award honors products of exceptional quality and outstanding performance in the classroom and at home. A panel of teacher evaluators use each product in their classrooms and homes to find the best products for teachers and parents.
Brooks, L.A. (2016). Challenging a social norm to establish effective sociomathematical norms in an elementary classroom. In M. B. Wood, E. E. Turner, M. Civil, & J. A. Eli (Eds.), Proceedings of the 38th annual meeting of the North American Chapter of the International Group for the Psychology of Mathematics Education (pp. 1301-1304). Tucson, AZ: The University of Arizona.
Brooks, L.A. (2016). Finding math in reading and science. Teaching Children Mathematics, 23(4), 216-217.
Dixon, J. K., Nolan, E. C., Adams, T. L., Brooks, L. A., & Howse, T. D. (2016). Making sense of mathematics for teaching grades K-2. Bloomington, IN: Solution Tree Press.
Brooks, L. A. & Dixon, J. K.(2013). Changing the rules to increase discourse. Teaching Children Mathematics 20(2), 84-89.
Professional Organizations
Association of Mathematics Teacher Educators (AMTE)
Florida Association of Science Teachers (FAST)
Florida Council of Teachers of Mathematics (FCTM)
National Council of Teachers of Mathematics (NCTM)
National Council of Supervisors of Mathematics (NCSM)
National Science Teachers Association (NSTA)