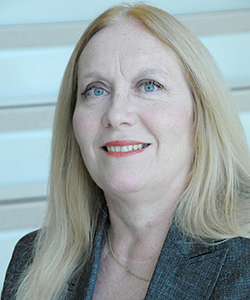 Mary Little, Ph.D.
Professor
Exceptional Student Education
Phone: 407-823-3275
Dr. Mary E. Little is a Professor and Program Coordinator in Exceptional Student Education at the University of Central Florida. She received her graduate and undergraduate degrees in Special Education and Curriculum and Instruction from the State University College at Buffalo and her doctorate in Special Education from the University of Kansas. Dr. Little has received in excess of $19 million in external funding for research and development from federal, state, and foundation funding agencies including the Institute for Educational Sciences (IES) and the Office of Special Education Programs (OSEP). Currently, she serves as the Principal Investigator for Intensive Interventions, a federally-funded research and development project through OSEP. The purpose of this project is to research, develop, and prepare educators to implement interventions in reading and mathematics to improve K-12 student learning especially within diverse, urban schools. Among her numerous articles, chapters, and books, two recent publications are entitled, Response to Intervention for Teachers: Classroom Instructional Problem Solving and RTI and Mathematics: Practical Tools for Teachers in K-8 Classrooms. Her professional experiences in the K-12 schools include roles as a secondary teacher, co-teacher, program coordinator and principal. Her research interests include evidence-based instructional practices, interventions, teacher efficacy, and student learning related to teacher learning. She teaches courses at the graduate and undergraduate levels using traditional and on-line formats, specifically in mathematics, assessment, instruction, action research, and program evaluation.
Ph.D. in Exceptional Education
University of Kansas
Mathematics – Assessment and Instruction
Action Research
Program Evaluation
Evidence-based instructional practices
Interventions
Teacher efficacy
Student learning related to teacher learning
Teaching Incentive Award
University Leadership Cadre member
Women's Mentorship Award
Sustained Millionaire Award-External Funding
Scholarship of Teaching and Learning (SoTL) Award
Recent Publications
Slanda, D.D. * & Little, M.E. (In Press, 2017) Exceptional Education is Special. In G. Hll, D. Gollnick, & L. Quinn ((Eds.), Handbook on Teaching and Learning. Hoboken, NJ: Wiley-Blackwell.
Little, M.E. & Slanda, D.D.* (In Press, 2017). Collaborating with General Education Colleagues. In K. Mitchem, K. Kossar, & J. Goeke (Eds.), Re-designing High Incidence Teacher Preparation: Challenges and Solutions. Hoboken, NJ: Wiley-Blackwell.
Witzel, B. & Little, M. (2016). Elementary Mathematics for Students with Disabilities and At-Risk Students. New York NY: Guilford.
Little, M. & Dieker, L. (2016). The Arithmetic to Algebra Gap: Instruction and intervention through collaboration. Upper Saddle River, NJ: Pearson.
Kocaoz, O.*, Little, M.E., & Gallup, J. (Accepted for publication). Video modeling with skillstreaming teaching procedures on the social skills of students with autism. Research in Autism Spectrum Disorders.
Miller, K.* & Little, M. E. (2017). Examining the effects of SRSD in combination with video self-modeling on writing by third grade students with learning disabilities. Exceptionalities, 17(4), 25-31.
Cramer, E., Little, M., & McHatton, P. (2016). Equality, standardization, and individualization: Expanding the conversations. Urban Education, 24(3),26-31.
Principal Investigator for Intensive Interventions, a federally-funded research and development project through OSEP
http://www.maryelittle.com/home
International Academy for Research in Learning Disabilities
American Educational Research Association (Action Research, Special Education, and School Reform SIG)
Council for Learning Disabilities (National officer: Treasurer-2006-2009)
Learning Disabilities of America (member: Executive Committee)
Council for Exceptional Children (Florida division: Former Vice President)
Teacher Education Division (Current National Chair – Professional Development: Former National Membership Chair; President: Florida chapter)