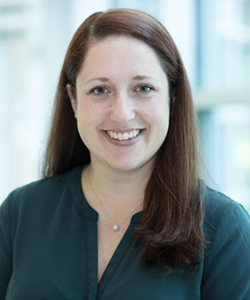 Melissa Zeligman, Ph.D.
Assistant Professor
Counselor Education
Phone: 407-823-6132
Professional Summary
Dr. Melissa Zeligman is an Assistant Professor in the Department of Counselor Education and School Psychology. Prior to completing her doctorate at the University of Central Florida, Dr. Zeligman served as a mental health counselor, working in agency, medical, legal, and high school settings. Her research focuses on trauma work- including the experience of posttraumatic growth, the experiences of clients living with HIV/AIDS and other chronic illnesses, and clinical skill development for counselors-in-training. Dr. Zeligman is an active member of multiple divisions of the American Counseling Association, including ACES, AARC, and ASERVIC, where she currently serves as a board member and media committee chair.
Education
Ph.D. in Counselor Education
University of Central Florida
Areas of Expertise
Mental health counseling
Counselor education
Trauma
Research Interests
Mental health counseling interventions for clients living with chronic illness, particularly those living with HIV
Trauma and posttraumatic growth
Clinical skills training
Recent Publications
Zeligman, M., McElroy-Heltzel, S. E., Davis, E. B., Dispenza, F., Davis, D. E., & DeBlaere, C. (2019). Posttraumatic growth and trauma in flood survivors: Contributions of attitudes toward God. Journal of Mental Health Counseling, 41, 127-143. doi:10.17744/mehc.41.2.03
Zeligman, M., Varney, M.*, Grad, R.*, & Huffstead, M.* (2018). Posttraumatic growth in individuals with chronic illness: The role of Social support and meaning making. Journal of Counseling & Development, 96, 53-63. doi:10.1002/jcad.12177
Zeligman, M. (2018). Medical trauma: Assessing trauma and growth following an HIV diagnosis. Journal of Humanistic Counseling, 57, 14-30. doi:10.1002/johc.12064
Zeligman, M., Dispenza, F., Chang, C. Y., Levy, D. B., McDonald, C. P.*, & Murphy, T.* (2017). Motivational interviewing training: A pilot study in a master's level counseling program. Counseling Outcome Research and Evaluation, 8, 91-104. doi:10.1080/21501378.2017.1342518
Zeligman, M., Bialo, J. *, Brack, J. L., & Kearney, M. A.*. (2017). Loneliness as Moderator between Trauma and Posttraumatic Growth. Journal of Counseling & Development, 95, 435-444. doi:10.1002/jcad.12158
Professional Organizations
American Counseling Association
Association for Counselor Education and Supervision
Southern Association for Counselor Education and Supervision
Association for Assessment and Research in Counseling
Association for Spiritual, Ethical, and Religious Values in Counseling