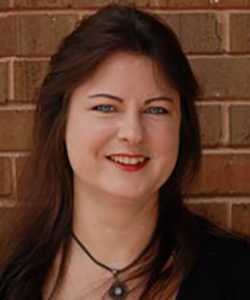 M.H. Clark, Ph.D.
Associate Lecturer
Methodology, Measurement, and Analysis
Phone: 823-5344
Professional Summary
M. H. Clark is an associate lecturer, statistical consultant and program evaluator at UCF. She has a doctorate in experimental psychology with a specialization in research design and statistics from the University of Memphis. Her specific areas of expertise are in causal inference, selection bias in non-randomized experiments and propensity score methods. She has 20 years of experience as a statistical and research consultant in behavioral research and program evaluation. She teaches graduate courses in statistics and research methods and works as a coordinator for the Computing and Statistical Technology Laboratory in Education, which provides statistical instruction and research consultation to faculty and students. She is part of the Court Health Services and Policies Working Group, which investigates substance use disorder treatment in the court system, and periodically works as an analyst for the Program Evaluation and Educational Research Group, which provides program evaluations and research services to academic programs. She is a member of the American Evaluation Association and frequently presents statistical papers and workshops on propensity scores at their annual conventions. Some of her studies have been published in the Journal of the American Statistical Association, Evaluation Review and Learning and Individual Differences.
Education
Ph.D. in Experimental Psychology
University of Memphis in Memphis, TN
Areas of Expertise
Causal Inference
Experimental Designs
Applied Statistics
Research Interests
Selection Bias
Propensity Score Methods
Academic performance among college students
Recent Publications
Wing, C., & Clark, M.H. (2016). What can we learn from a doubly randomized preference trial? An instrumental variables perspective. Journal of Journal of Policy Analysis and Mangement, 36, 418-437. doi:10.1002/pam.21965
Clark, M.H. (2015). Propensity score adjustment methods. In: W. Pan and H. Bai (Eds.), Propsensity score analysis: Fundamentals, developments, and extensions . New York, NY: Guilford Press.
Clark, M.H., Middleton, S.C., *Nguyen, D., & *Zwick, L.K. (2014). Meditating relationships between academic motivation, academic integration and academic performance. Learning and Individual Differences, 33, 30-308. doi: 10.1016/j.lindif.2014.04.007
Fragala, M.S., Clark, M.H., Walsh, S.J., Kleppinger, A., Judge, J.O., Kuchel, G.A., & Kenny, A.M. (2012). Gender differences in anthropometric predictors of physical performance in older adults. Gender Medicine, 9, 445-456. doi: 10.1016/j.genm.2012.10.004
Dollinger, S. J., & Clark, M. H. (2012). Test-taking strategy as a mediator between race and academic performance. Learning and Individual Differences, 22, 511-517. doi:10.1016/j.lindif.2012.03.010
Current Funded Projects
Statistical Consultant and Co-Principal Investigator, M-Path: Advanced Manufacturing Project (Valencia State College Third Party TAACCCT Round 4 Evaluation Project). U.S. Department of Labor: Trade Adjustment Assistance Community College and Career Training. Amount: $100,000; PI: Bonnie Swan; Other co-PI: and Debbie Hahs-Vaughn. Months: .2. Support dates: October 1, 2014 – September 30, 2018.
Professional Organizations
American Evaluation Association
American Educational Research Association
Psi Chi: International Psychological Honor Society