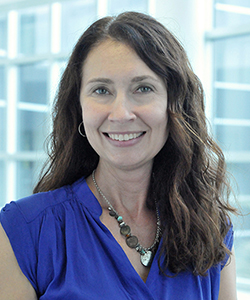 Michele Regalla, Ph.D.
Associate Professor
World Languages Education
Professional Summary
Michele Regalla is an Associate Professor of ESOL at the University of Central Florida. Dr. Regalla is a certified French and elementary teacher with ten years of teaching experience at the K-12 level in the Pennsylvania public school system. She has taught French at both the secondary and elementary levels, taught in an intensive English program, and taught English to elementary students in Costa Rica. Dr. Regalla currently directs a pre-kindergarten French program at United Cerebral Palsy (UCP) Bailes where she is conducting research on the effects of second language learning on first language skills for both typical students as well as those with special needs.
Education
Ph. D., University of Pittsburgh
Areas of Expertise
Foreign Language Education
English for Speakers of other Languages,
Service-learning
Research Interests
Early Language Learning
Service-Learning
Teacher Preparation
Recent Publications
Regalla, M. & Peker, H. (2017). Prompting all students to learn: Examining dynamic assessment of special needs and typical students in a pre-kindergarten, inclusive French program. Foreign Language Annals. 50(2), 323-338.
Regalla, M. , Hutchinson, C., Nutta, J. & Ashtari, N. (2016). Examining the impact of a simulation classroom experience on teacher candidates' sense of efficacy in communicating with English learners. Journal of Technology and Teacher Education. 24(3), 337-367.
Regalla, M. (2016). Getting out of their comfort zone: Examining the impact of service-learning abroad on teacher candidates. Multicultural Perspectives.
Regalla, M. & Peker, H. (2015). Early language learning for all: Examination of a prekindergarten French program in an inclusion setting. Foreign Language Annals, 48(4), 618-634.

Regalla, M. (2015). Little Pim: A review of the French teacher's kit, CALICO Journal, 32 (2).

Current Funded Projects
Regalla, M. "Language Learning for All," funded by the Caplan Foundation for Early Childhood PI of a research project investigating the relationship between first and second language learning for students with special needs.
Professional Organizations
American Council on the Teaching of Foreign Languages (ACTFL)
American Council on the Teaching of Foreign Languages (ACTFL)
Teachers of English to Speakers of Other Languages (TESOL)
National Association for Multicultural Education (NAME)
American Association for Applied Linguistics (AAAL)
American Association of Colleges for Teacher Education (AACTE)
National Network for Early Language Learning (NNELL)
Sunshine State TESOL (SSTESOL)
Sanibel Leadership Association