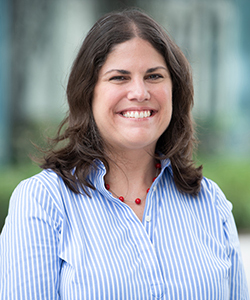 Michelle Crozier, Ph.D.
Lecturer
Global Health Management and Informatics
Phone: 407-823-1402
Professional Summary
Dr. Michelle Crozier earned both her PhD in Public Health (2017) and Master of Public Health (MPH) (2008) with concentrations in Epidemiology from the University of South Florida College of Public Health (USF COPH). Her applied public health experience includes working as a communicable disease epidemiologist and program manager with the Florida Department of Health, in addition to serving as the influenza epidemiologist for the Volusia County Health Department during the 2009 H1N1 influenza pandemic. In her academic roles, Dr. Crozier taught as an adjunct for the University of Central Florida, worked as a Visiting Assistant Professor of Epidemiology and Epidemiology MPH Concentration Lead at the USF COPH, and most recently, managed the Health Sciences Collegiate Academy for Lake-Sumter State College. She is experienced in non-profit program evaluation, enjoys mentoring students, and her research is focused on mitigating the adverse impact of psychological trauma in the community.
Office Hours
Monday: 10 am – 1 pm
Thursday: 11 am – 1 pm
Education
Ph.D. in Public Health
University of South Florida
Areas of Expertise
Population-based Research
Applied Epidemiology
Program Evaluation
Research Interests
Adverse Childhood Events
Post-traumatic Stress Disorder
Resilience
Recent Honors and Awards
Sigma Xi, Scientific Research Honors Society, 2019
Recent Publications
Mansuri F, Crozier Nash M, Bakour C, Kip KE. 2020. Adverse childhood experiences (ACEs) and headaches among children: A cross-sectional analysis. Headache doi:1111/head.13773.
Crozier Nash M, Kip KE, Wang W, Custer M, O'Rourke K. 2019. Post-traumatic stress disorder and hypertensive disorders of pregnancy among military women. Paediatric and Perinatal Epidemiology doi:10.1111/ppe.12546.
Professional Organizations
Society for Epidemiologic Research (SER)
American Public Health Association (APHA)