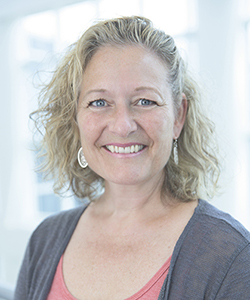 Norine Blanch, Ph.D.
Associate Lecturer
Elementary Education
Professional Summary
Dr. Norine Blanch is an Associate Lecturer at the University of Central Florida in the College of Community Innovation and Education School of Teacher Education. She earned bachelor's degrees in Physical & Health Education (1993), and Primary/Junior Education (1995) from University of Toronto in Toronto, Ontario, Canada. Additionally, Dr. Blanch earned her Master of Education degree in Teaching & Learning from Brock University, St. Catharine's, Ontario, Canada. In 2013, after a long career as an educator and vice principal, Dr. Blanch journeyed to the University of Central Florida where she completed her Ph.D. in Elementary Education in 2016. Her dissertation was titled: Examining Elementary Preservice Teacher Efficacy to Teach Writing in a title 1 School: A Mixed Method Study of a School-based Teacher Education Course Intervention. Dr. Blanch currently teaches courses in language arts and integrated arts at UCF, with a special focus on preparing preservice teachers to be efficacious teachers of writing in diverse elementary classrooms. Norine enjoys supporting interns in their school placements, and traveling to regional campuses in Lake County. She is continuing to ensure that preservice teachers have school-based experiences by building partnerships between school districts and UCF in order to allow authentic experiences to be realized. She welcomes opportunities to collaborate with other professionals interested in furthering school-based research at the state, national, or international level.
Education
Ph.D. in Elementary Education
University of Central Florida
Areas of Expertise
Elementary Education
Language Arts in the Elementary School
Integrated Arts
Research Interests
Teaching Writing in High-Needs Schools
School-Based Teacher Education Coursework
Urban Education
Recent Publications
Roberts, S. K., Blanch, N., & Gurjar, N. (2017). Exploring writing circles as innovative, collaborative writing structures with teacher candidates. Reading Horizons: A Journal of Literacy and Language Arts, 56(2). Kalamazoo, MI: College of Education & Human Development.
Routhier-Martin, K., Roberts, S. K., and Blanch, N. (2017). Exploring mindfulness for the elementary classroom: Intersections across current multidisciplinary research. Childhood Education, 93 (2), 168-176. DOI:dx.doi.org
Blanch, N., Forsythe, L., Van Allen, J., & Roberts, S. K. (2016). Reigniting Writers: Using the literacy block with elementary students to support authentic writing experiences. Childhood Education, 93(1).
Blanch, N., & Roberts, S. K. (2016). Teacher retention in Title 1 schools: An exploratory phenomenology of teachers who stay. PHILLIS: The Journal of Research on African American Women, 4 (1), 76-91. Washington, DC: Delta Research and Educational Foundation.
Professional Organizations
International Literacy Association
Florida Reading Association