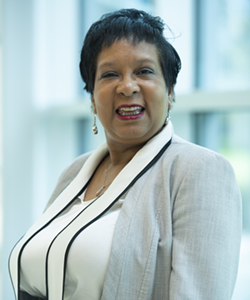 Sheila D. Moore, Ph.D.
Visiting Lecturer
Educational Leadership
Professional Summary
Dr. Moore has served as an Assistant Professor of Educational Leadership at Florida A&M University where she has taught educational leadership courses in both Master and Doctoral Programs and served as dissertation chair. A former teacher and school leader, Dr. Moore has also served the profession through the Florida Association of Professors of Educational Leadership (FAPEL), Florida Department of Education, Southern Regional Council on Educational Administrators (SRCEA), American Education Research Association (AERA), American Association for Colleges of Teacher Education (AACTE) and others. Dr. Moore's research interests include leadership preparation programs, clinical practices, and collaborative partnerships; social justice in school leadership with emphasis on female leadership in urban settings and mentoring/doctoral student development. Dr. Moore has been recognized and is the recipient of teaching, research, and mentoring awards. Recently, Dr. Moore was invited to write reviews for the Teachers College Record.
Education
Ph.D. in Educational Leadership
Auburn University
Areas of Expertise
Accreditation
Curriculum
Mentoring
Research Interests
School Leadership Preparation Programs, Clinical Practices, and Collaborative Partnerships
Mentoring/ Doctoral student development
Social justice in school leadership with emphasis on female leadership in urban school settings
Recent Honors and Awards
Innovative Teacher of the Year (FAMU Junior Faculty)
AACTE Holmes Scholar Mentor of the Year and Program of the Year 2016
SRCEA Outstanding Junior Faculty Paper Award
Recent Publications
Moore, S. D. (2019). Connecting for student success: Engaging as active partners for
doctoral educational leadership preparation program development. In E. Reames, D. Griggs, & F. Kochan (Eds) Partnership for Student Success and Leadership Preparation and Development: Models and Strategies for Change. Information Age Publishing (in press).
Moore, S. D., & McNeil, T. (2019). Bridging mentoring and professional development for
African American doctoral student success. In A. Wilkerson and D. Chapman (Eds.) From Student to Scholar: The Impact of Mentoring on Underrepresented Scholars Within America's Colleges of Education. Information Age Publishing (in press).
Moore, S. D. (2018). Implementing diverse mentoring programs for student success [Review of
the book Developing successful diversity mentoring programs, by D. Clutterbuck, K. Poulsen, and F. Kochan]. eISBN:978-0-33-524389-1, mentor.unm.edu.
Moore, S.D. (2018). Culture shock: Promoting mentoring and professional development for
African American doctoral student success. In J. McClinton, D. Mitchell, G. Hughes, & M. Melton (Eds) Mentoring at Minority Serving Institutions (MSIs): Theory and Design, Practice, and Impact. Information Age Publishing
Moore, S. D., Henderson, L. & Moore, A. J. (2017). It takes two: Principals and special
education educators creating transitional spheres. In A. Ellis (Ed.) Transitioning children with disabilities: From early childhood through adulthood. Rotterdam, Netherlands: Sense Publishing
Professional Organizations
Florida Association of Professors of Educational Leadership (FAPEL)
Secretary
2018-2020
American Association for Colleges of Teacher Education (AACTE)
Committee on Meetings and Professional Development
Member
2017-2020
AERA Invited Reviewer
SIG-Learning and Teaching in Educational Leadership
Southern Regional Council on Educational Administration (SRCEA)
Board Member
2015-2019